Автомовили - Запчасти -Ремонтное оборудование

About The Portal To Russia -----
How To Subscribe -----
---
Know Whom you are dealing with. You may wish to decide whether you feel comfortable about our credibility, before you read our opinions and advice
Credentials
The many faces of Dr. Palms
References - Testimonials - History
Awards

Awards
IBM - ATT - Microsoft - Magellan - Time Warner - Europe Online - NYNEX
---
---
CLASSIC LINCOLNS

---
Many Classic Lincolns are available for export. to Russia. Use the email button above for details. Subject: Lincoln Query
Here are some other typical American models. You may click on this blue auto to see a larger photo of the automobile
And here are your contacts in Russia

Генеральный директор Александр Привалов Акционерное общество "ЗЯльтимедиа техника" ул. ШКвоторжская, дом 2, 170000, г. Тверь E-mail: mmt@tver.fact400.ru │Eисание потребностей: Требуются инвестиции или кредитные денежные ресурсы в размере 50 000 USD для создания автомобильного каталога. Шщша фирма уже инвестировала в создание каталога более 100 000 USD. │Eразец нашей работы можно увидеть - http://194.87.72.22/ │Eталог создается при участии ведущих фирм - производителей: General Motors (Moscow Office) Ford Motor Company (Moscow Office) Daimler-Benz (Moscow Office) BMW (Moscow Office) VOLVO Car (Moscow Office) RENAULT (Moscow Office) NISSAN Europe (Moscow Office) MITSUBISHI Motors (Moscow Office) HYUNDAI (Moscow Office) IVECO (Moscow Office) VOLKSWAGEN (Moscow Office) и других ведущих мировых фирм автомобильной промышленности. │Eнастоящее время наша фирма располагает примерно 10 000 качественных фотографий, 2 000 страниц текста, 5 часов видео и другой информацией от указанных выше фирм с правом размещения этой информации в сети Интернет и на CD-ROM. ЗУ получаем каждую неделю большое количество новых материалов (фотографий, описаний и др.) по автомобильной тематике. Использование полученных денежных средств предполагается для перевода информации на английский язык. После создания каталога предполагается продажа рекламного пространства в автокаталоге. Предлагаем участие в этом прибыльном бизнесе.
If you want to see the automobile in black click here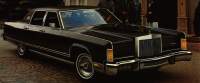 You may also want to check out the following index:
AVAILABLE FOR IMPORT INTO RUSSIA
CUSTOMIZED RESTORED U.S. LUXURY AUTOMOBILES AVAILABLE TO RUSSIAN IMPORTERS
ONLY 10% TO 20% OF PRICE SUBJECT TO IMPORT DUTY
UNITED STATES AUTOMOBILES - FORD MOTOR COMPANY: BRAND: LINCOLN CONTINENTAL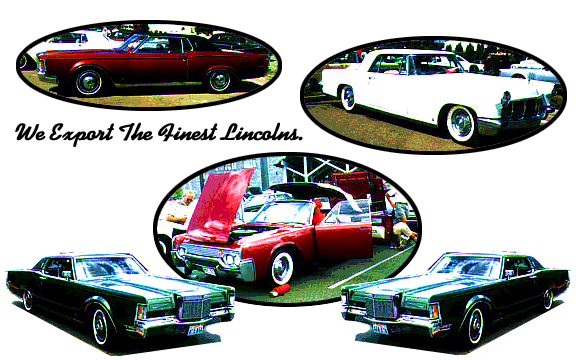 ---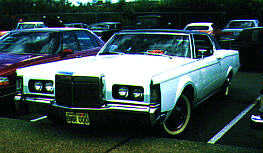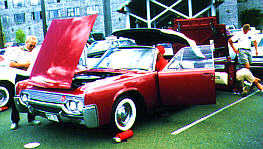 ---
MARK 5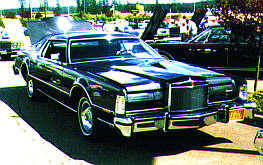 MARKIV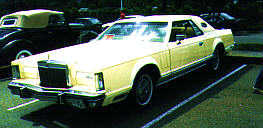 MARK IV
---
TOWN CAR очен красивый и лучший

---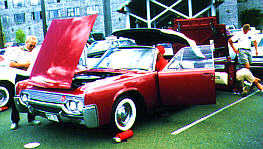 CONVERTIBLE TOP ELECTRONICALLY GOES INTO BAGGAGE COMPATMENT
---
Prices: From $10,000 to $15,000
Import Duty and VAT only for $3,000 of the purchase price.
Description: These are presidential type automobiles of the highest quality for general directors, bankers, government officials. These automobiles are custom built to the specifications of the buyer.
Colors: Black, Grey, Red, Brown and 30 other colors and shades.
Delivery: in U.S. or any Russian of Commonwealth CIS ocean port
Documents: Complete brochures in color with specifications available for $150.00
Repairs: Replacement parts delivered by Federal Express as ordered.
Characteristics:
About 7 meters in length
fully checked mechanically
like new condition
468 horsepower engine
air-conditioning
power brakes, windows, seats, steering, antenna
automatic transmission and door locks
radio, cassette player
leather upholstery of all seats and doors
bullet proof glass available
tinted glass. can see from inside out only (optional)
adjustable steering wheel
some stretch limousine with six doors (8 passengers) all others for 6 passengers with comfort (2 door or four door optional) * automatic sun-roof opens driver and front passenger part of metal roof.
luggage compartment sufficient for 8 large luggage pieces.
maximum speed 200 kilometers per hour
special high clearance of body with road
special shock absorbers for Russian roads
operates on either leaded benzene or lead free benzene.
---
Normal Russian Left or Right Turn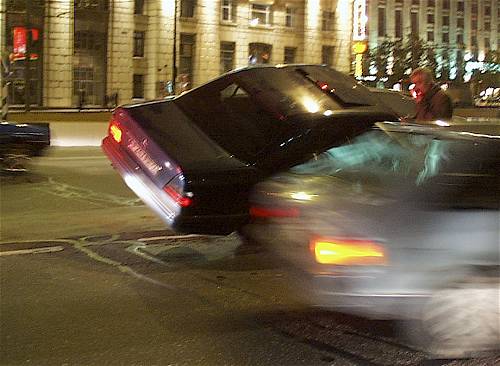 Go to TOP of this page
---

RETURN to Palms' Lobby

RETURN TO HOME PAGE
---
---
---
For discussions in Russian language - Branch offices in Russia - Batlics - FSU
CA
N YOU REALLY RELY UPON PALMS & COMPANY?
You are One of the
Who can.
(World Population Counter)
│@
---
---
Attention Brokers, Agents , Intermediaries, Mandates of Principals/Buyers
Go to TOP of this page

RETURN TO HOME PAGE
---
Go to TOP of this page
6421 Lake Washington Boulevard North East
State of Washington, United States of America, 98033-6876 Phone: 1-425-828-6774 & 1-425-827-5528 Branches: 41 World-wide
email: Marketing@PeterPalms.com
Consulting telephone: click HERE Created 1995 Last Revision: 6/23/2004
Copyright 1995-1996, Palms and Company, Inc., All rights reserved