Document Courtesy of Palms & Company
Know Whom you are dealing with. You may wish to decide whether you feel comfortable about our credibility, before you read our opinions and advice
Credentials
The many faces of Dr. Palms
References - Testimonials - History
Awards

Awards
IBM - ATT - Microsoft - Magellan - Time Warner - Europe Online - NYNEX
DESIGN A CAN LABEL - WIN $1000
---
---

About The Portal To Russia -----

How To Subscribe -----

Dr. Palms
---
---
Please take a look at a very excellent product "Canned Boned Chicken"
which is described at http://www.PeterPalms.com/catalog/food with pictures.

To confirm just how excellent and exacting the preparation is, please read the
specifications .

This product is manufactured in The United States of America, in the most
modern sanitary manufacturing facilities, under the supervision and inspection of
the United States Government, Department of Agriculture, which purchases
hundreds of millions of dollars of this product for distribution to poor
people in the United States. (Yes, The United States also has its poor
and under nourished).

It is my intention to distribute this excellent source of protein to
the people of the countries around the world, where chicken is difficult
to raise and feed properly or where refrigeration and electricity are
either not available, or not affordable.

The product is fully cooked and ready to serve hot or cold and is delicious to
taste and beautiful to look at.

IT DESERVES A VERY CREATIVE, INSPIRATIONAL AND UPLIFTING MESSAGE,
AS A LABEL FOR THE CAN, WHICH IS 10 CENTIMETERS IN DIAMETER
AND 12 CENTIMETERS TALL.

CONTEST

Palms & Company takes this opportunity to advise graphic artists, web designers
and those who work with Gimp and Photo Shop etc. that you are invited to submit
a design for this can label both in a flat version of ~32 centimeters circumference, as well
and a "pasted on the can illustration".

$1,000 Prize

The designer of the design selected to be used will receive a prize of $1,000, paid out of the
proceeds of the first sale. All designs will be entered into a catalog of available designs
and if selected by any customer, at any time, for an order which is filled, the designer of
that label will also receive a prize of $1,000.

Entry is open to amateurs as well as professionals, irrespective of age, or nationality, or
country of residence. Entries may be .jpg or .gif files for "pasted on" version and probably
.tga for the flat copy. and may be sent by email to Contest@PeterPalms.com

There are no design parameters. The winning label may be one that is "quite unlike any other
label has ever been before". If words are used, logically they might include "Palms" "Poultry"
"Chicken". "USA", "United States of America" or some of the words appearing on the above
listed web-page.; all forms of illustrations, photos, drawings of chickens; abstract,
impressionistic, hologram. In every sense we hope for a work of art that will convey the
uplifting message of the miracle of delivering fresh chicken globally, to those in need, and
of a quality so good, that one would expect to find it in a five-star restaurant.

Thank you for participating.

Dr. Peter Palms
President@PeterPalms.com

---
---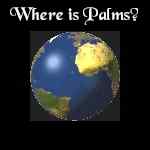 ---
---
CAN YOU REALLY RELY UPON PALMS & COMPANY?
You are One of the
Who can. (World Population Counter)
---
---
Attention Brokers, Agents , Intermediaries, Mandates of Principals/Buyers
Go to TOP of this page

RETURN TO HOME PAGE
---
Go to TOP of this page
6421 Lake Washington Boulevard North East
State of Washington, United States of America, 98033-6876 Phone: 1-425-828-6774 & 1-425-827-5528 Branches: 41 World-wide
email: Marketing@PeterPalms.com
Consulting telephone: click HERE Created 1995 Last Revision: 6/23/2004
Copyright 1995-1996, Palms and Company, Inc., All rights reserved
Last Revised Feb 8, 2003