---
---
President of Lithuania Expresses Gratitude to Dr. Palms for Economic Development Assistance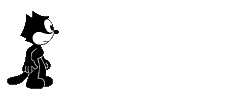 Know Whom you are dealing with. You may wish to decide whether you feel comfortable about our credibility before you read our opinions and advice
- Credentials
The many faces of Dr. Palms
References - Testimonials - History
Awards
Awards
IBM - ATT - Microsoft - Magellan - Time Warner - Europe Online - NYNEX

Click here if you want to speak to an English Speaking Expert NOW!
---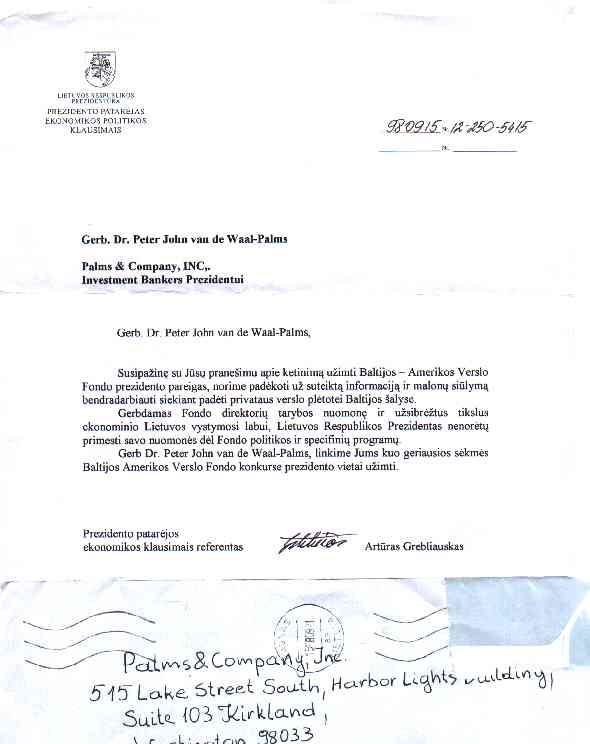 "We would like to thank you for your kind agreement to become president of the baltic-American Enterprise Fund. We would like to express gratitude for all the informaiton and cooperaiton in the future developing trade and private businessin the Baltics.. Dear Dr. Peter John an de Waal-palms, we wish you all possible successess.
Arturas Glebliauskas
President's Economic Advisor
---
CAN YOU REALLY RELY UPON PALMS & COMPANY?
---
No, we don't need Palms. Lets do it ourselves with in-house staff.
---
Attention Brokers, Agents , Intermediaries , Mandates of Principals/Buyers
---
---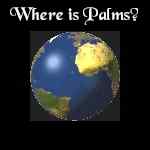 Go to TOP of this page

RETURN TO HOME PAGE
---

Go to TOP of this page Palms & Company, Inc. Founded 1934 Palms Bayshore Building, Penthouse Suite #408 West Wing
6421 Lake Washington Boulevard North East
State of Washington, United States of America, 98033-6876 Phone: 1-425-828-6774 & 1-425-827-5528 Consulting telephone: click HERE Copyright 1995-1996, Palms and Company, Inc.; all rights reserved; email: Marketing@PeterPalms.com
Created Last Revision: 09/12/02 Branches: 41 in Eastern Europe, Russia, The Baltics, Central Eurasia, CIS, FSU