MOTORCYCLE HELMET COVERS
RACCOON FUR PELT
Raccoon Large $ 80.00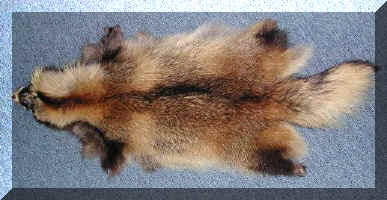 REAL FUR PELT COVERS FOR MOTORCYCLE HELMETS
Here are some pictures of fur pelts without the motorcycle helmet, just to give you an idea of how they look.
CLICK ON PICTURES TO ENLARGE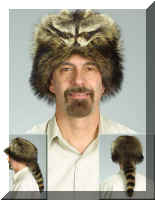 Skunk $ 40.00

Red Fox $110.00



Red Fox $110.00

CLICK TO ENLARGE
Coyote $150.00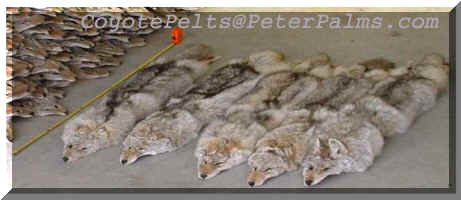 Fisher $150.00
Artic Fox X-large $120.00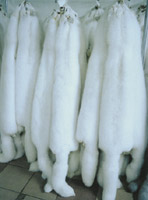 Artic fox without paws and claws $100.00
Silver Fox $180.00
Cross Fox $120.00
BACK SEAT RIDER JACKET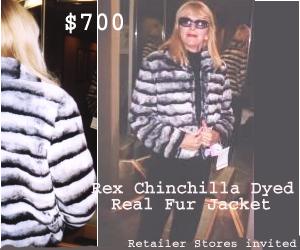 OTHER TYPES FUR PELTS AVAILABLE
Large Lynx Cat $330.00
Lynx $270.00
3 Wild Mink Brown $180.00
Black Mink Ranch Raised $280.00
Muskrat $145.00
American Sable 21 inches $270.00
Sable Canadian 33 inches $450.00
Sable Russian35 inches $510.00
Wolverine $750.00
Grey Fox $ 80.00
Badger $150.00
Bobcat X-large $200.00
Blue Fox XX Large $220.00
Blue Fox Large $180.00
If you want to see pictures of the actual pelts listed above, before they are turned
into a motorcycle helmet cover click here
GEOGRAPHIC ORIGIN:
Thick cold weather pelts from The Yukon, The Arctic,
The Northwest Territories, Canada, Alberta, British Columbia,
Alaska, The Klondike, Montana, Washington, Idaho, Wyoming,
Oregon, British Columbia
SHIPPING:
Shipped world wide by air delivery 7 days
airmail parcel post, DHL, FedEx
Domestic shipping by UPS, Federal Express
WHO ARE WE:
Palms & Company is Licensed by United States Government
Fish & Wildlife Agency
United States Fur Exchange is a Division of Palms & Company Inc.
Palms & Company, Inc was founded in 1934,
Our company is listed by credit reporting agency
DUN & BRADSTREET Number 144252012
Also listed with consumer protection agency,
Better Business Bureau.
REFERENCES
International Experience with Many Cultures
HOW TO ORDER
Make check or postal money order or bank cashiers check payable and mail to :

Anke van de Waal
6421 Lake Washington Boluevard Northeast , Suite 203
Kirkland (Seattle) Washington State USA 98033-6876
Include your
1. mailing address
2. zip code
3. telephone number (fur UPS)
4. Email address if you have one
SHIPPING AND HANDLING IS FREE
QUESTIONS? 1 425 828 6774

Wanted world wide:, Importers, distributors, wholesalers,
retail stores , manufacturers representatives, agents
broker
---
click on blue for
CLICK HERE FOR OTHER PRODUCTS
CLICK HERE FOR
CLICK HERE FOR
NEW COATS & JACKETS
DECEMBER 1, 2005
Long Haired Beaver Sheared trim vests - Black & White Rabbit - Sculpted Pinsquare Sheared Beaver - Ivory Long Haired Beaver - Beaver parkas - Urban Sheared beaver - Beaver vest - Beaver Jackets - Shearling Look - Beaver Coats - Whiskey Sheared Beaver - Golden Island Fox Trim - Stars & Stripes - Olive Leaf Trim - Jungle City Sheared Beaver - New Diamond Carved Sheared Beaver - Quiet Elegance - Persian Lamb - Red Sheared beaver - Rose Beige Sheared beaver - Black Lamb Reversible to Black Nappa - Double faced Beaver Reversible - Woven Mink Reversible to Nappa - Reversible Nutria to Antique Nappa - Ladies Female Parkas - Man's Dyed Jacket - Man's Female Mink Parkas - Sheared Mink Reversible Leather Long hair Mink - Sheared Mink Reversible Glama Mink Trim - Sheared Mink Reversible Leather - Sheared Mink Horizontal - Sheared Mink Reversible to Nappa - Sheared Mink Sable Trim -
---
---
Know Whom you are dealing with.
You may wish to decide whether you feel comfortable about our credibility, before you read our opinions and advice
Credentials
The many faces of Dr. Palms
References - Testimonials - History
Awards

Awards
IBM - ATT - Microsoft - Magellan - Time Warner - Europe Online - NYNEX
This firm is federally licensed by the United States Government. All shipments are in strict compliance with the laws of the United States as administered by the United States Department of The Interior, U.S. Fish & Wildlife Agency.

CLICK HERE TO SEE OR ORDER OUR FUR COAT STYLES FOR 2004

Visit the Catwalk shows in Paris, New York, Milan London
Want more?
855 photos (click on the year, then on every major fashion show in that year
AND
The Runway for Fall Fur Fashion
If you find a style you like, place your mouse on the photo. Then click on the right button of your mouse. Then click on "save picture as". Save picture to a directory of your choice on your hard drive. Now send us the picture by attaching it to an email. With your measurements and the amount you want to spend. We will send you pictures of everything that matches your size, style and price range
Click Here For women's high fashion fur hats and Sports Fur Hats
CLICK HERE FOR
Want to see more bedspreads in different size and types of fur ?
Then please click here to send us an email, and we'll send details
---
---
CAN YOU REALLY RELY UPON PALMS & COMPANY?
---
---
Attention Brokers, Agents , Intermediaries, Mandates of Principals/Buyers
Go to TOP of this page

RETURN TO HOME PAGE
---
---
---
Go to TOP of this page
6421 Lake Washington Boulevard North East
State of Washington, United States of America, 98033-6876 Phone: 1-425-828-6774 & 1-425-827-5528 Branches: 41 World-wide
email: Marketing@PeterPalms.com
Consulting telephone: click HERE Created Nov 2002 Last Revision: 6/23/2004
Copyright 1995-1996, Palms and Company, Inc., All rights reserved