UPDATED WINTER 2016
special 800 Northeastern raccoon pelts $10 each, Fresh Commercial Garment Tanned. Very Soft & Stretchy Leather.
Tel or if busy leave message at 828-6774
CLICK HERE FOR LATEST NEW PELT PICTURES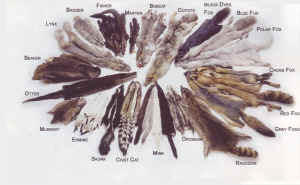 click on picture to enlarge
Special
Dressed Raccoon Pelts suitable for garments, bedspreads, cuffs, collars, lining
Click here for 300 Full screen pictures of our products


Document Courtesy of Palms & Company
FUR PELTS OF MINK - LYNX - CHINCHILLA - SABLE - OTTER RACCOON - FOX - BEAVER - COYOTE - ARTIC TIMBER WOLF
NEW COATS & JACKETS
DECEMBER 1, 2009
Long Haired Beaver Sheared trim vests - Black & White Rabbit - Sculpted Pinsquare Sheared Beaver - Ivory Long Haired Beaver - Beaver parkas - Urban Sheared beaver - Beaver vest - Beaver Jackets - Shearling Look - Beaver Coats - Whiskey Sheared Beaver - Golden Island Fox Trim - Stars & Stripes - Olive Leaf Trim - Jungle City Sheared Beaver - New Diamond Carved Sheared Beaver - Quiet Elegance - Persian Lamb - Red Sheared beaver - Rose Beige Sheared beaver - Black Lamb Reversible to Black Nappa - Double faced Beaver Reversible - Woven Mink Reversible to Nappa - Reversible Nutria to Antique Nappa - Ladies Female Parkas - Man's Dyed Jacket - Man's Female Mink Parkas - Sheared Mink Reversible Leather Long hair Mink - Sheared Mink Reversible Glama Mink Trim - Sheared Mink Reversible Leather - Sheared Mink Horizontal - Sheared Mink Reversible to Nappa - Sheared Mink Sable Trim -
CLICK HERE FOR OTHER PRODUCTS
CLICK HERE FOR
HOW TO ORDER NOW
To order by credit card use your account at PayPal.com and send your payment and order to our email address at PayPal which is: Ebay@PeterPalms.com. Free shipping and insurance
Know With Whom You Are Doing Business
You may wish to decide whether you feel comfortable about our credibility, before you read our opinions and advice
Credentials
The many faces of Dr. Palms
References - Testimonials - History
Awards

Awards
IBM - ATT - Microsoft - Magellan - Time Warner - Europe Online - NYNEX
This firm is federally licensed by the United States Government. All shipments are in strict compliance with the laws of the United States as administered by the United States Department of The Interior, U.S. Fish & Wildlife Agency.
---
---

About The Portal To Russia -----

How To Subscribe -----

Электронная почта Dr. Palms
---
Interested in Coats or Jackets made from any of there pelts? Then visit our photograph catalog by clicking here and for hats click here
CLICK ON PHOTO FOR LARGER VIEW!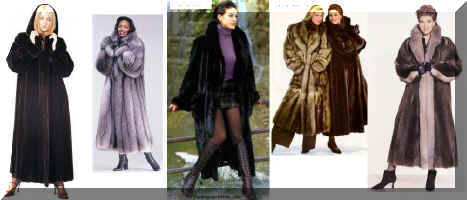 Interested in Fur Bedspreads from Twin to King size made from any of these Pelts? Then visit our photograph catalog by clicking here
Want to see more pelts without text? Then click here
ASK ABOUT OUR WOLF JACKETS & STROLLERS
click here or on picture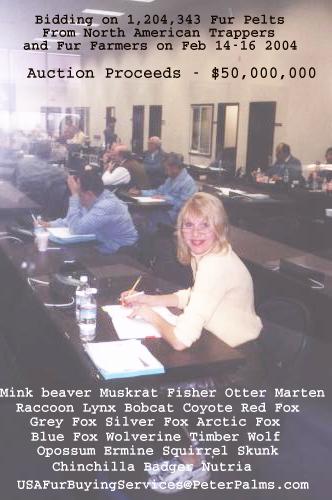 Mink*2,000,000
Beaver 155,000
Cougar 8
Muskox 14
Wolverine 150
Fisher 19,500
Badger 1,000
Skunk 1,000
Lynx 6,000
Lynx Cay 2,800
Otter 12,000
Opossum 30,500
Muskrat 455,000 Coyote 40,000
Red Fox 32,500
Grey Fox 2,000
Cross Fox 2,000
White Fox 200
Wild Silver Fox 350 Nutria 3,900
Chinchilla 14,000

Raccoon 485,000
Sable (Marten) 100,000
Dressed Hair Seal 20,000
Timber Wolf 775
Wild Mink 38,000
Ringtail Cat 250
Ermine (Weasel 20,000
Squirrel 32,000
TO PLACE AN ORDER OR OBTAIN PRICE QUOTATION CLICK HERE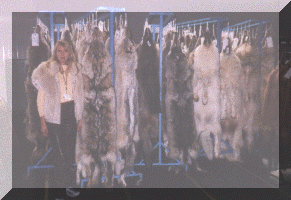 Timber Wolf
Chinchilla Red Fox
BEAVER - A softer North American market fueled by an abnormally warm winter contributed to weaker prices for this important article, especially for shearing qualities. Although clearances were 100% for the season, prices slid to unacceptable levels throughout the season. The participation of the new markets of China and Greece as well as renewed interest from Europe in the Beaver sales was very encouraging
Mink Beaver Fox Coyote Wolf
Mink Beaver Coyote Fox Wolf
---
When we refer to "otter" we are referring to "Myocaster Coypus Bonariensis" and not "Emhydra Lutres Nereis" Otters are found only in South America. Mature size 39-46 inches (1.1-1.2 meters, Mature Male Weight 9-11 kilograms. Mature Female Weight 8-10 kilograms. The value of the otter fur is attributed to the qualities of warmth, nimbleness and softness, important factors in the making of garments of high quality. The otter is a wild species that when trapped and tamed, adapts well to breeding in captivity. Breeding in total captivity implies intense work with establishment of farmyards, daily feeding with green forage and maintenance of a high level of hygiene. Breeding in captivity produces a fur pelt different from wild pelts. Breeding in captivity produces mutations of colors from wild otters (reddish brown), these mutations are impossible to reproduce my means of dye., and are much sought after in blck, cognac with golden tips, beige with white tip, amber golden (yellow to orange) champagne cream, white in the flanks The most valuable are recessive.

They are neither sea, nor river otters. They are a mutation of otter for farm raising. They do not spend any time in the water, which makes a much better fur. They do not even spend any time under the sun, avoiding any fur or skin damage.

The origin is from a white otter from Poland which was mutated with a darker otter.
1. size: minimum length 28 inches
2. weight of pelts: average 250 grams
3. gross weight of shipment: not available yet
4. price: US$ 48/pelt transference in
advance
5. separately quote international airfreight charges:
6. time of delivery 15 days
7. colors of pelts: Silver

OTTER - May auction sales established record levels for Otter with a $104.00 average and a top of $195.00. These new price levels show that promotional efforts in China and elsewhere in the world, continues to pay huge dividends. There should be excellent demand for Otter again next season, with the paler types bringing the most money.

New photographs being added of new fresh pelts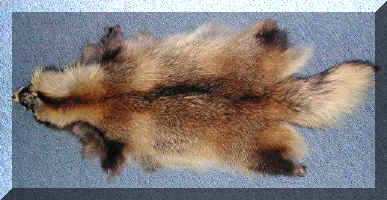 RACCOON - Raccoon have sold exceptionally well
this past year. The higher prices and 100% clearances
are telling us that the manufacturers are doing well
in this important article. As economic conditions in
Russia continue to improve and the trim trade
continues to use larger quantities of this article,
we should see increased demand for heavy
and semi-heavy type Raccoon. Once again,
premiums will be paid for larger sizes and Western
Heavy sections.
Raccoon continues to be promoted, not only in
Greece and Russia, but in other markets as well.
MUSKRAT - This article enjoyed excellent demand and clearances for most of last season, with the Korean market using the bigger sizes and better quality Muskrats for shearing, while Europe, Russia and China using the commercial qualities and smaller sizes. There should be good demand for Muskrats again next season.


COYOTE - The expanded use of Coyote as a trimming item in Italy, Korea and North America helped maintain good prices and clearances for heavy and semi-heavy sections throughout last season. Flatter sections and commercial qualities sold well later in the season. All indications are for another good selling season for this article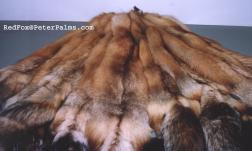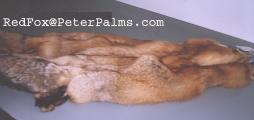 click to enlarge these two

RED FOX - The resurgence of Red Fox as a high fashion trim piece resulted in outstanding prices and clearances for this article last season. Korea and Germany will continue to use heavy and semi heavy sections for trimming, while China will use flatter sections and commercial qualities for garments. Particularly interesting is Irish Red Fox obtained by hunting.
CLICK ON PHOTO FOR LARGER VIEW!
Blue Cross Grey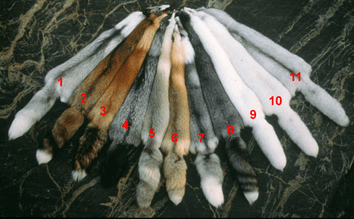 11 colors of fox
SILVER FOX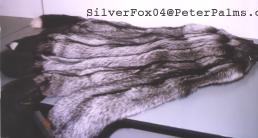 HOW TO ORDER NOW
To order $270 silver fox pelts by credit card use your account at PayPal.com and send your payment and order to our email address at PayPal which is: Ebay@PeterPalms.com. Free shipping and insurance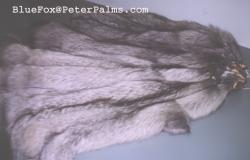 TO PLACE AN ORDER OR OBTAIN PRICE QUOTATION CLICK HERE
If you don't see it ask for it -
Beaver, Sheared Beaver - Fisher - Badger Pine Marten - Raccoon -
Otter - Nutria - Chinchilla - Wolverine - Muskrat - Ferret - Skunk

SABLE - Continued support for trimming from Western
Europe, especially Italy, helped advance significantly
from last year. This was particularly evident with the larger sizes and heavier sections. Improved prices were also seen for smaller sizes and lighter weight sections. We expect the market for Sable to continue to perform well over the next season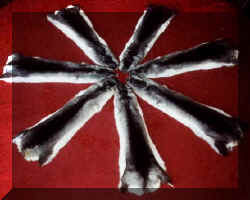 FOR DETAILS ABOUT CHINCHILLA PELTS PLEASE CLICK HERE
SPECIAL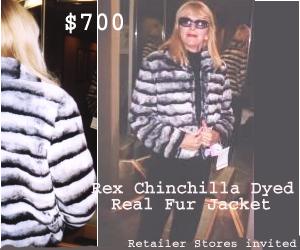 REX CHINCHILLA DYED REAL FUR JACKET $700
click on 2 photos above to enlarge
Canadian Sable Russian Sable Skunk
---
LYNXCAT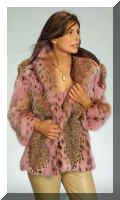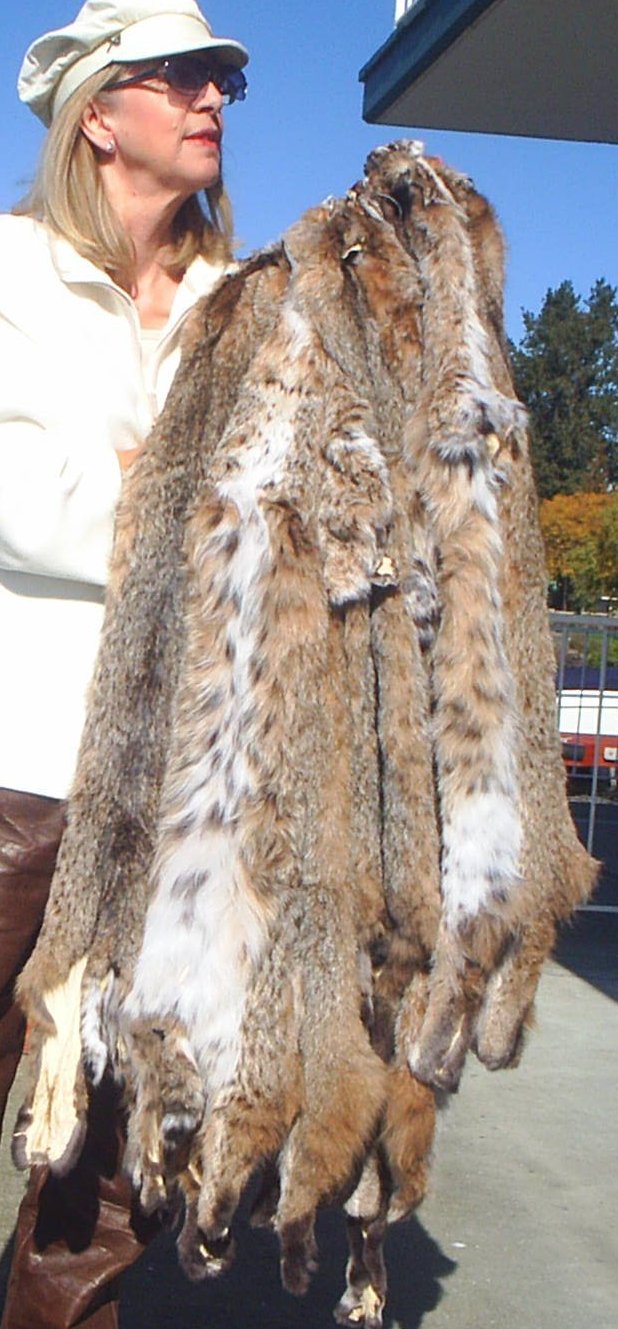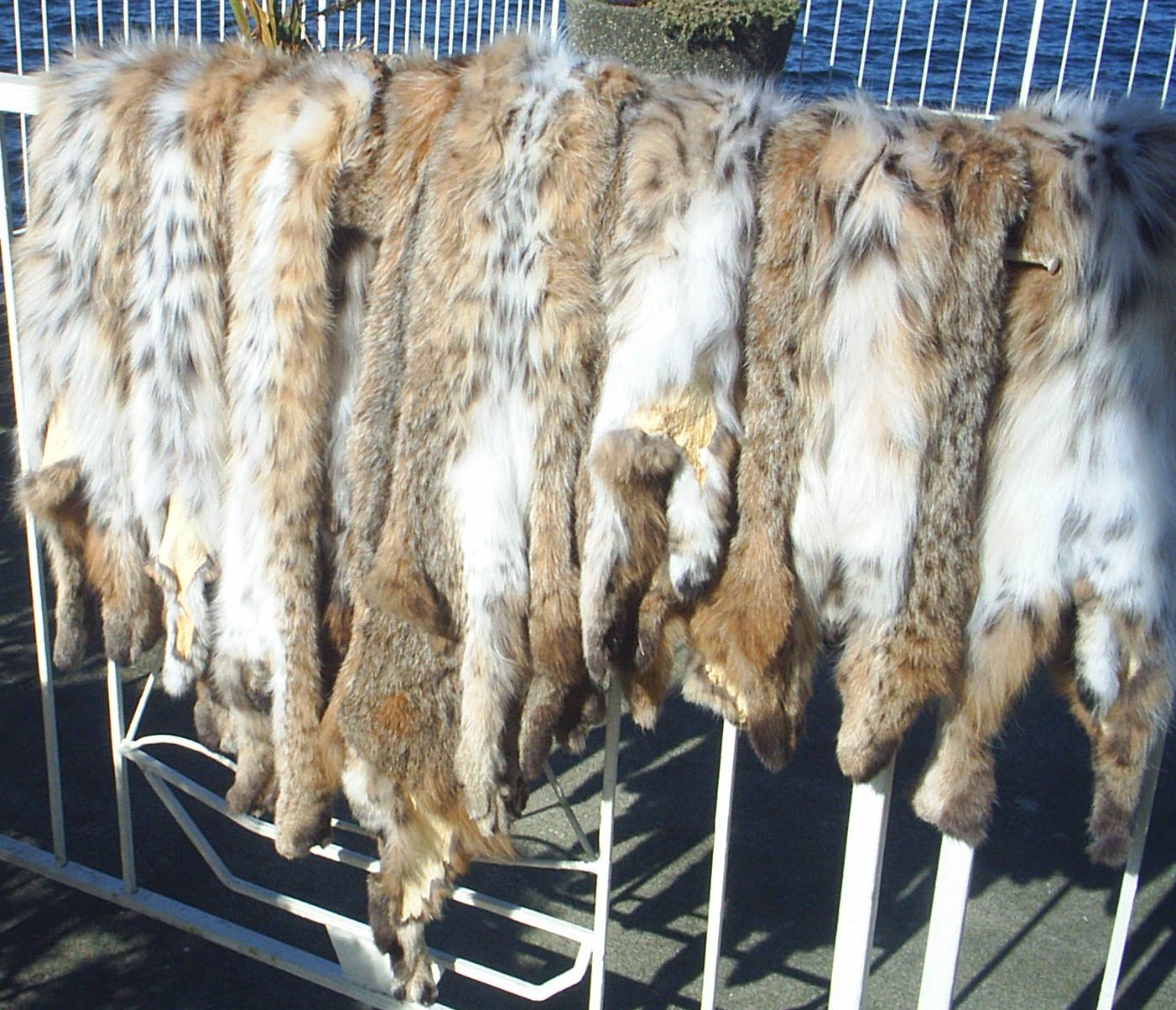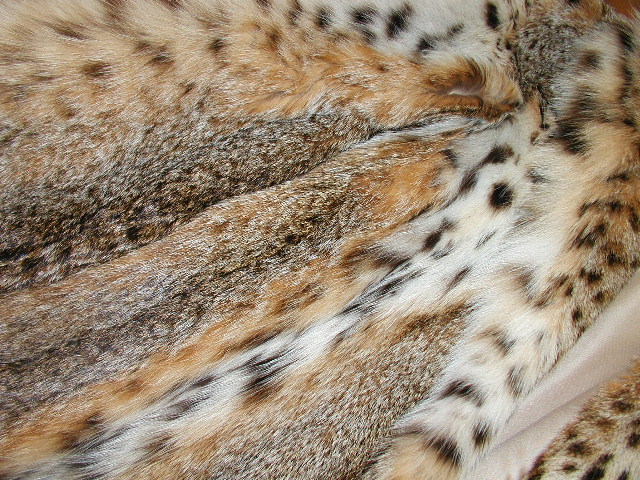 LYNX - Renewed interest from European
designers has stimulated the use of this
luxurious article. Still used primarily for
trim, we should see firm to advancing
levels, particularly for clearer colors and
better qualities.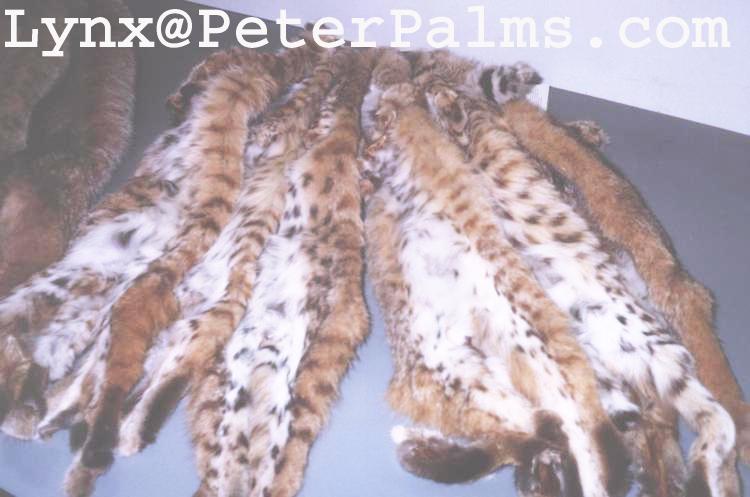 LYNX CAT/BOB CAT - This article is seeing
much stronger demand, with top fashion
designers using it both as a trim piece and
for garment use. There will be excellent
demand prices for heavy and semi-heavy
types, particularly with better belly colors.
Flatter sections and commercial qualities
will be saleable at adjusted price levels.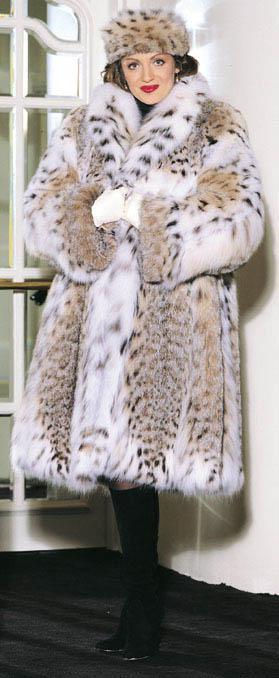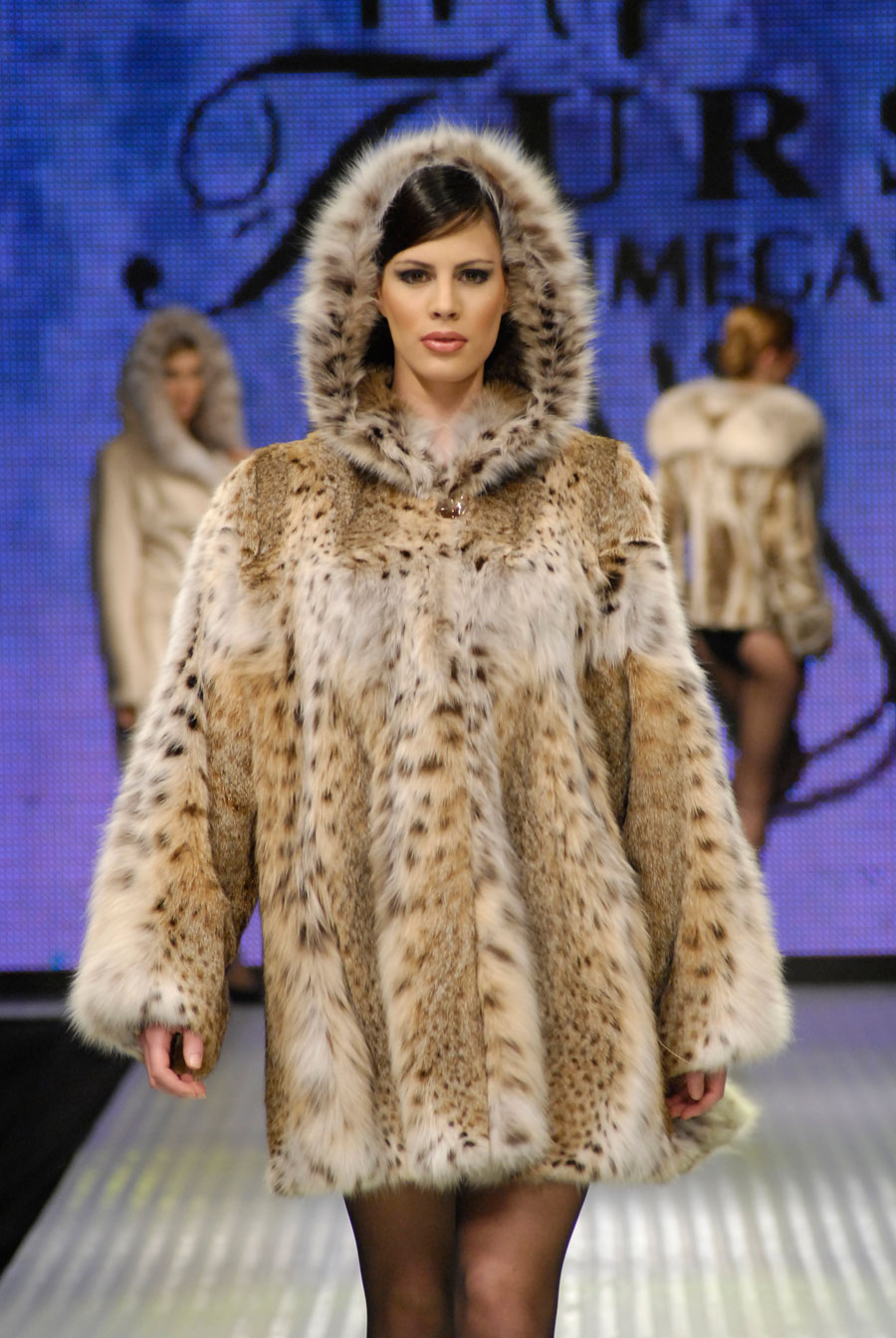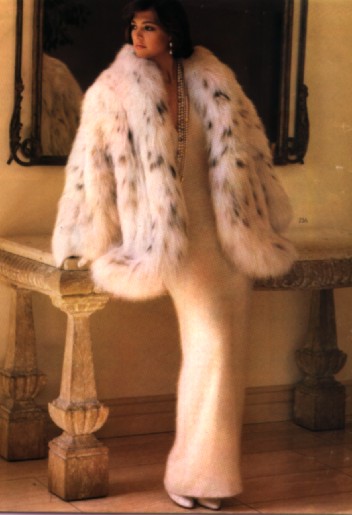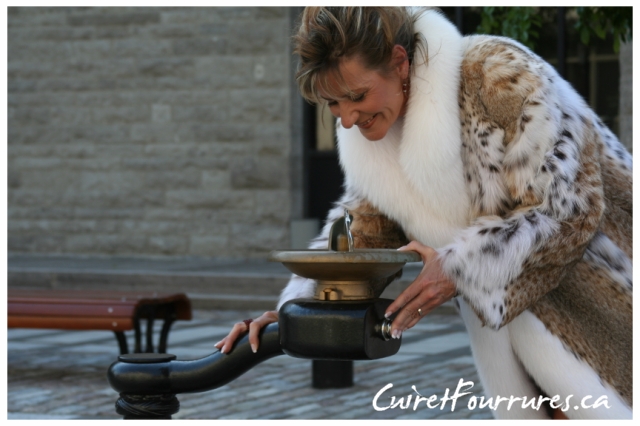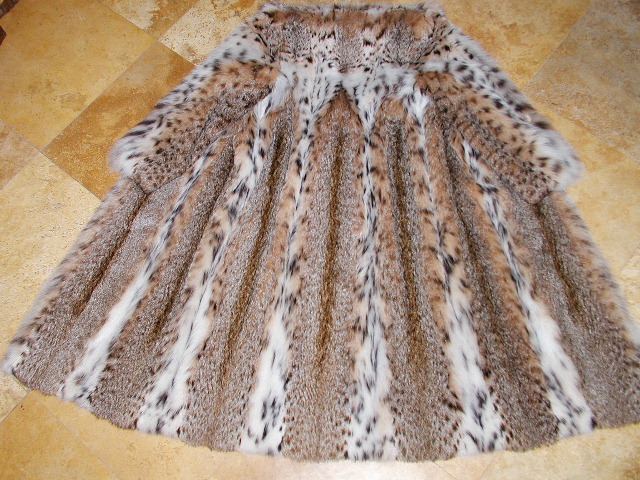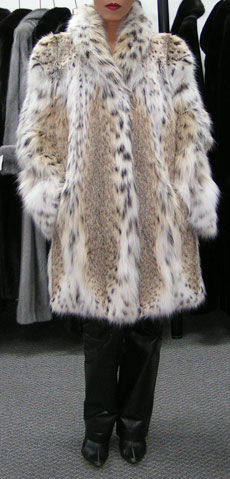 FISHER - Prices for male Fisher, especially the larger sizes, advanced significantly over the previous season. Females also showed improvement. With Greece and Russia stimulating this market we expect the demand to remain strong for next season.
WILD MINK - Although prices improved somewhat over the last year, this article is still selling at disappointing levels. Continued promotional efforts are necessary.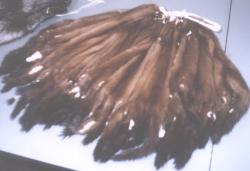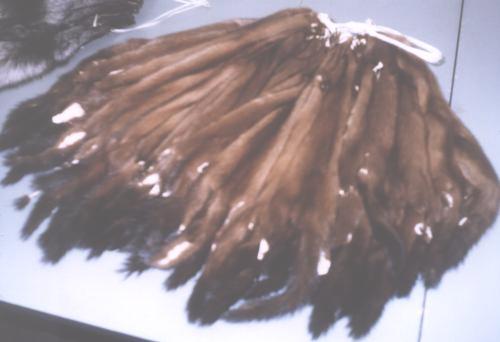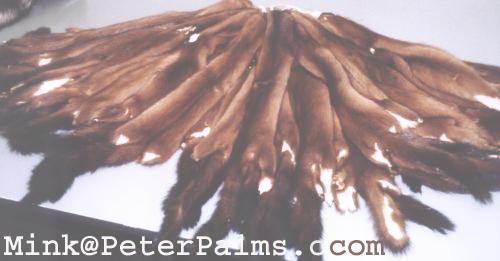 (Click to enlarge picture.)
GREY FOX - Prices and clearances
improved for this article this past season.
With increased use as a trim item, premiums
will paid for the heaviest sections while
semi-heavy and flatter types should
see similar results to this past season.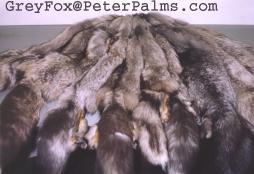 BEARS, WOLVERINE, TIMBER WOLF - Primarily used for taxidermy purposes, best prices will be paid for properly handled, prime pelts
TO PLACE AN ORDER OR OBTAIN PRICE QUOTATION CLICK HERE
For photos without text on one page that you can print, click here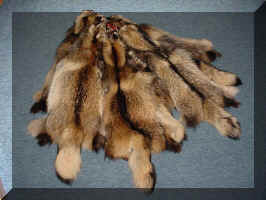 Raccoon Chinese Origin 85 cm 24 inches and up
1000 pieces
Rabbit Pelts
SHEARED BEAVER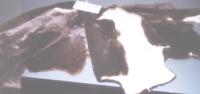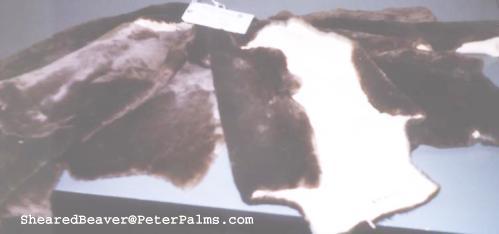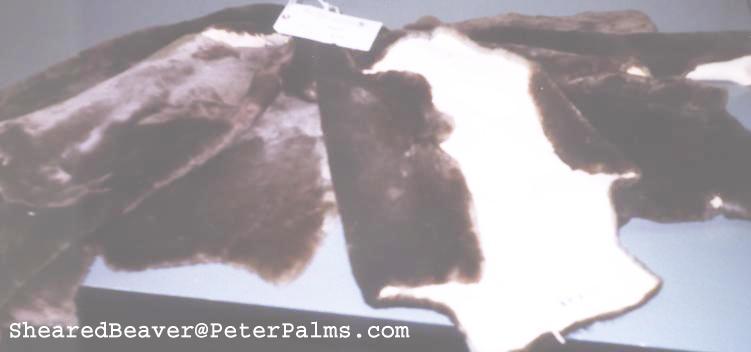 ---
Special
Dressed American Raccoon Pelts suitable for garments, bedspreads, cuffs, collars, lining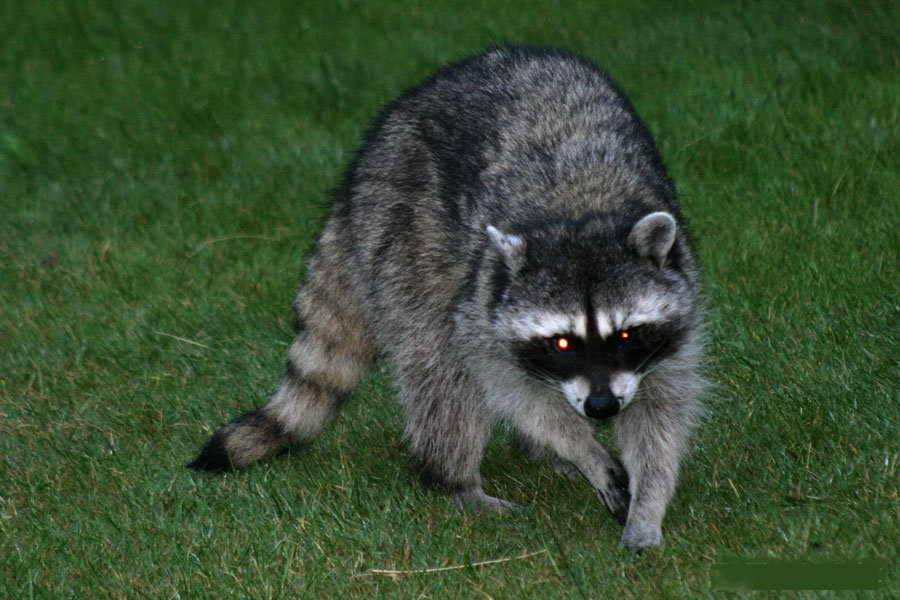 TO ORDER NOW
To order Raccoon Pelts by credit card use your account at PayPal.com and send your payment and order to our email address at PayPal which is: Ebay@PeterPalms.com. Free shipping and insurance
Quantity 1 $40.00|
Quantity 10 $30.00
Quantity 100 $20.00
Quantity 500 $10.00
CLICK HERE FOR HOW TO ORDER SPECIES OTHER THAN RACCOON
CLICK HERE FOR RABBIT PELT DETAILS
---
---
CAN YOU REALLY RELY UPON PALMS & COMPANY?
You are One of the
Who can. (World Population Counter)
---
Attention Brokers, Agents , Intermediaries , Mandates of Principals/Buyers
Go to TOP of this page

RETURN TO HOME PAGE
---
Go to TOP of this page
6421 Lake Washington Boulevard North East
State of Washington, United States of America, 98033-6876 Phone: 1-425-828-6774 & 1-425-827-5528 Branches: 41 World-wide
email: Marketing@PeterPalms.com
Consulting telephone: click HERE Created Nov 2002 Last Revision: 7/23/20013
Copyright 1995-1996, Palms and Company, Inc., All rights reserved Webmaster - Web maintenance - Revenue Generation Responsibility
---