ïÐÅÒÁÃÉÉ Ó ÄÅÎØÇÁÍÉ - FOREX òÉÓËÉ - ÄÅ×ÁÌØ×ÁÃÉÑ - ÉÎÆÌÑÃÉÑ.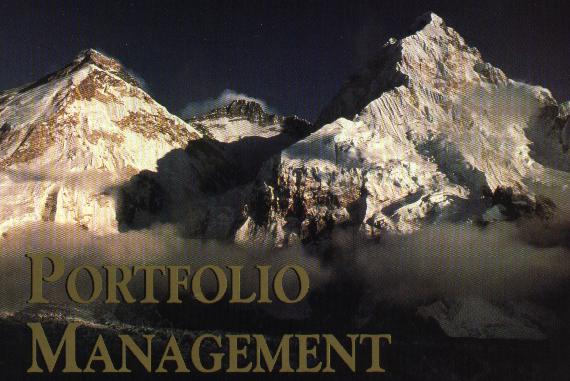 Where Are The World's Richest Men Investing Their Money
PORTFOLIO COMMENTS
---


üÌÅËÔÒÏÎÎÁÑ ÐÏÞÔÁ Dr. Palms

---
---
WHAT'S NEW - DECEMBER 1999
The Dow Jones industrial average has had its 4th year of gains exceeding 20%. The Nasdag has also had five years of gains exceeding 20%. As of November 24th it was at 56%. The Standard & Poor's 500 stock index has a 15% gain to date this year and also has it best five year results. It is unprecedented that the market has put together fice years of this kind of performance back-to-back. The stock market has never been able to put together a sustained period of high prices without a spectauclar decline.
PRICE TO SALES RATIO'S?
Since a number of high priced stocks have little or no earnings, some investors are beginning to speak of a price-to-sales ratios in evaluating stock prices. We should remember that from 1956 to 1997 the highest price-to-sales ratio the Standard & Poor Industrial stocks ever reached was 1.25 times sales back in the mid 1960's. At the present 2.2 price-to-sales ratio they look over-priced. What are we to think then of high-speed internet access firms priced at 539 times sales, or bio-technology firms whose shares are priced at 1,127 times ints revenues? They are meant to be sold.
WEYERHAEUSER
Weyerhaeuser Co. is located 20 miles south of Seattle and is the largest "Lesprom' type company in the United States. It is buying TJ International, a Boise, Idaho-based speciality bulding products companyfor $720 million dollars, ($42 per share). The transaction will make Weyerhaeuser the world's provider of "value added" engineered wood products. Weyerhaeuser also purchased MacMillan Bloedel, Canada's largest forest products company, for $3 billion dollars earlier in 1999.
MICROSOFT
Microsoft is adding ficenew 2 story buildings totally 50,000 square meters of space which will be ready for occupancy in 120 days. It also has bought 10% of Korea Thrunet Co., a Korean Internet services provider with 91,000 subscribers. Windows operating system runs 95 percent of the world's perosnal computers. It maintains offices in more than 60 countries and approximately 52 percent of all its sales ,or $10.27 billion are in countries other than the United States.
PACCAR
a maker of trucks in Bellevue (Seattle), generated more than $3 billion in Europe, Canada, Mexico and Australia, neary 40% of its $7,6 billion in net sales. Sales in Europe constituted 30% of total sales. Its Kenworth division is located in Kirkland. It also has factories in Canada, Mexico, Belgium, United Kingdom and The Netherlands.
FLOW INTERNATIONAL
a manufacturer of ultra-high-pressure water jet cutting and cleaning equipment has 900 associates in 45 countries around the world. Manufacturing is also conducted in Germany, Switzerland, Tainwan and Japan International sales account for 50% of their sales.
THE BOEING COMPANY
Sales of Boeing Commercial Airplanes Group were $35.5 billion of which $22.2 billion cam from other countries. The Boeing Company's total revenues in 1998 were $56.2 billion ot which $26.5 billion - 47% - came from outside the United States.
---
Wha'ts New October - November 1999

Five businesses located in the same neighborhood as Palms & Comany including five more in Washington State are among the fastest growing business in the United States of America. have made this year's Inc. magazine list of the nation's 500 fastest growing privately owned companies, based on thesize of trunover during the past five-years
Intuitive Manufacturing' Systems, Kirkland (No. 50)

Vixel, Bothell (No. 108)

GWI Software, Vancouver (No. 156)

CourtLink, Bellevue (No. 173);

Informatics, Richland (No. 174)

Amanda Gray, Seattle (No. 188)

Versatile Systems, Lynnwood (No. 260)

Elucidex, Bellingham (No. 279)

Optiva, Snoquamie (No. 426)

Hard Drives Northwest, Bellevue (No. 466).

To be considered for the 199 lis, companies must be independent and privately held, based in the United States and have had sales of at least $200,000 in, 1994. Holding companies, regulated banks and utilities were not eligible for the list. Companies' net sales figures were independently verified by a research team. Roth Staffing, a Brea, California based temporary and permanent staffing agency, was declared the nation's fastest growing private company, with a 20,300 percent increase in rev- enues, from $361,000 in 1993 to $73.7 million last year. The company increased its workforce from six full-time employees in 1993 to 197 at the end of 1998.

The following is a look at how the five neightboring companies of Palms & Company, Inc. fared.
Intuitive Manufacturing Systems, a Kirkland-based developer of enterprise resource planning software for small and midsized manufacturers, saw its revenues grow 3,200 percent, from $219,000 in 19493 to $7.3 million last year. Its workforce rose from 8 employees five years ago to 72 in 1998.
Vixel, a Bothell-based developer of high- speed fiber-optic products, enoyed an 1,800 persent growth in revenues, from $1.9 million in 193 to $39.4 million. last year. Its workforce increased from 23 employees in 1993 to 166 last year.
CourtIink, a Bellevue-based provider of online access to court records, saw a 1,400 percent. increase in business, from $295,000 in turnover in 1993 to $4.4 million last-year. Its employee count grew from 9 in 1993 to 50 last year.
Optiva, the Snoqualmie -based maker of the popular Sonicare toothbrushes, had a 700 percent growth in sales, from $16.5 million in 1993 to $132.-9 million in 1998. Its workforce expanded from 90 employees in 1993 to 500 last year.
Hard Drives Northwest, a, Bellevue-based maker and seller of personal computers and supplies, reported a 600 percent growth in businss, from $3.45 million in 1993, to $25.4 million last year. Its staff grew from five employees in 1993 to 45 last year-.
---
The following is a list of the American companies which are offering for the first time to sell their shares to the investing public in an "IPO" (Initial Public Offering. during the month of December 1999.
Agilent Technologies Inc. - Palo Alto, Calit, 57 million shares, priced $19-22, managed by Morgan Stanley Dean Witter; Industry: Measuring, Photograpic Optical Goods.
CacheFlow Inc. - Sunnyvale, Calif., 5 million shares, $11-13, managed by Morgan Stanley Dean Witter; Industry: Business Services and Software. 1
Colonial New York Insured Municipal Fund - Boston, I million shares, priced at $15, managed by Solomon Smith Barney; Industry: Financial Services.
Comstar.net - Atlanta, 3.2 million shares, priced $12- 14-,manged by Scott & Stringfellow Inc.: Industry;- Business Services and Software.
Imanage Inc. -San Mateo, Calif., 3.6 million shares, priced $8-10, managed by BancBoston Robertson & Stephens Industry: Business Services and Software.
Korea Thrunet Co Ltd. 9.8 million shares priced $12-14, managed by Lehman Brothers; ; Industry: Business Services -and Software.
LifeMinderscom Inc. - Herndon, Va.-, 4.2 million shares,, priced $12-14, managed by Hambrecht & Quist; Industry: Business Services and Software.
Management Network group Inc. - Overland Park,, Kan., 4.6 million shares, priced $12-14, managed by Hambrecht & Quist; Industry: Retail Trade.
Mediaplex Inc. -San Francisco. 6 million shares Priced $8-$10 managed by Lehman Brothers, Industry: Business,Siervices. and Software.
MetaSolv Software Inc. - Plano, Texas, 5 million shares, priced $12-14, managed by Morgan Stanley Dean Witter; Industry: Business Services and Software.
Metron Technology N.V..- Burlingame, California, 3.75 million shares, priced $11-13, managed by Bank of America- Securites; Industry: Industrial & Commercial Machinery.
Rainmaker Systems Inc. - Scotts Valley, Calif., 5 million shares, priced $8- 10, managed by Donaldson Lufkin & Jenrette/Thomas Weisel Partners LLC; Industry- Retail Trade.
Retek Inc. - Minneapolis, Minn., 5 million shares, priced $10-12 managed by Credit Suisse First Boston; Industry: Business Services and Software.
SciQuest.com Inc. Morrisville,, N.C., 7.2 million $1O-12, managed by Donaldson Lufkiri & Jenrette; Industry- Wholesale Trade-Nondurable Goods.
Symyx Technologies-Inc. - Santa Clara, Calif., 4.6 million shares, priced $12-14, managed by Credit Suisse First Boston; Industry: Other Services.
Terra Networks Inc. Madrid, Spain, 22.23 million American Depository Shares, priced $10.5-12.3, managed by Goldman Sachs; Industry: Business Services and Software.
Thermoview Industries Inc. - Louisville, Ky., 1.2 million shares, priced $7-9, managed by Joseph Charles and Associates; Industry: Retail Trade.
Virata Corp. - Santa Clara, Calif., 5 million shares, priced $9-11,, managed by Credit Suisse First Boston; Industry: Electronic Equipment.
Web Street Inc. Deerfield, Ill., 3.5 million shares, priced $9-1 1, managed by Fahnestock & Co; Industry: Financial Services.

---
What sort of things does Microsoft invest in?
Microsoft Corp. said it will invest $35 million for a 10% ownership in GigaMedia Ltd., Taiwan's largest broadband Internet service provider. Redmond-based Microsoft and GigaMedia will develop a co-branded online hub based on Mocrosoft's MSN network ofWeb sites and a WebTV service based on Miscorsof's Web Networks that let users toggle between television programs and personal computers. GigaMedia has access to about 3.4 million households and 500,000 small and mediuam size businesses. The GigaMedia investment is Microsoft's biggest to date in the Asian market.
---
Kamaz Counterpart in United States is ranked No. 1
Palms & Company's neightbor, Paccar Inc., the manufacturer of trucks like KAMAZ, has been ranked No. 1 in the United States for its innovative use of information technology.
Paccar took first place honors for its use of cutting-edge digital technology in everything from customer service and communication with parts suppliers and dealers, to the design and manufacture of its vehicles. Other companies in the list's top 10 included Lucent,Technotogies (No. 2),- United Parcel Service (No. 4), MCI worldcom (No. 5) and Silicon Graphics, (No. 6). Another Washington state company),Seattle-based planemaker The Boeing Co., took 21st place .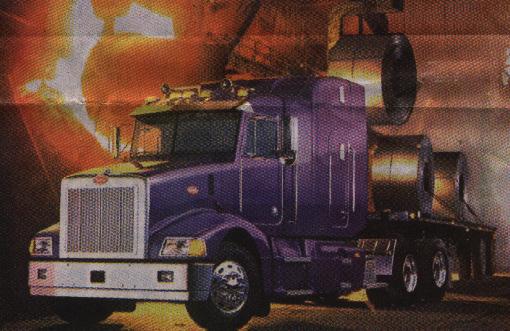 Peterbilt is one of Paccar's line of heavy-duty trucks.
Paccar ranked No. 431 a year ago. It's been a 'Major year of investment and activity, Ayear ago they were just beginning to replace their desktop computers. Now they have 10,000 new desktops. In addition to the introduction of new technology on the desktop, one of the compariy's most visible achievements affecting its ranking was the completly digital design and assembly of two truck lines, the Kenworth T2000 and the Peterbilt 387. The two lines are manufactured at the company's automated robotics plants in Chillicothe, Ohio,. and Denton, Texas. Paccar also operates a Kenworth assembly plant in Kent and assembles Kenworth and Peterbilt vehicles in South Seattle, near Boeing AirField. It employs 21,000 people world- wide and 4,000 in the Puget Sound region. Paccar also was lauded for the introduction of its two line divisions - Paccar.com and e-Paccar - and for being the first original equipment manufacturer (OEM) of trucks to joiin the Automotive Network Exchange. The online network links Paccar and the automotive indust,ry's Big 3 manufacturers - Ford, General Motors and DaimlerChrysler - to parts supplier's around the world. Paccar officials said their company is ahead of the automotive industry in the custom design and manufacture of vehicles using digital technology. Where the automotive world wants to go, Paccar is already there, . In the future, the company plans to invest in companies that offer related technologies to keep ahead of the competition. With the right technology this company will remain first.
---
THE UNITED STATES GOVERNMENT OFFER TO GUARANTEE THE INVESTMENTS OF RUSSIAN IN BONDS
The United States of America wants to sell you some bonds. This month it raised the interest rate currently paid on inflation-protected bonds to 6.98% percent. That's more than is being paid by American banks on savings accounts or Treasury bills. and regular bank accounts. There is an Internet site where you can buy the bonds with a credit card,- any time of the day or night. This is very good news for the tose who want protection for inflation or losses in currecny exchange rates, or other risks associated with "soft currencies". The rate is good , higher than certificates of deposit money markets, savings accounts or other Treasury securities. Inflation-protected bonds or I bonds, have sold well in their first year on the market, despite the fact that an awful lot of people have yet to hear about them. Americans are buying about $40 Million worth of I bonds each month, or about 11 percent of the total. The long-established E bonds account for the rest. The main innovation in I bonds is the way your interest rate is figured. The rate includes two parts - a variable, inflation-adjusted portion and a fixed rate that ensures your investment will grow faster than inflation.
The profit on I bonds bought through April includes 3.58% on the variable side and a ficed return of 3.4% for as long as you keep the bond. That compares with a rate on E bonds of 5.05 percent. I bonds are not for everyone and usually would not be the only investment you want. But they have a nurnber of positive features. To start with, they are easy to buy and sell. They cost as little as $50, which is onereason why many grandparents buy them frequently as gifts for grand-children. Since it is backed by the federal government of the United States of America, an I bond is about as safe an investment as you can get.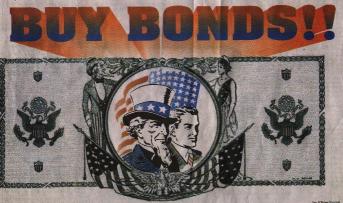 Even if the stock market collapses or other investments go bad, your bond interest will continue to flow. You, can be sure you will get your principal back, all of it.; -There are tax advantages, too. Earnings are exempt from state and local income taxes; federal taxes don't come due until cash in the bond. There is an addtionaI tax break, in some stances, if you cash in and use the money for college expenses. All those positives mean that I bonds are worth considering for the iconservative end of a diversified portfolio. "You have an easy, safe and competitive alternative to Treasury bills and money market fuds.There are also disadvantages. The first is that those steady returns never get any better. Low-risk investments keep you whole, but they won't make you rich. Another potential drawback is the limits on cashing in I bonds. You have to hold a bond for six months before you can sell. If you sell before five years, you forfeit three months' worth of interest. The penalty was specifically designed to discourage short- term investment. If you hold a bond for only one year, you will forfeit 25 percent of the earnings by losing three months of interest. Ironically, you can use a credit card to buy bonds on the Internet. That's a definite drawback, unless you pay off your credit card bills promptly. Buy is it helpful if youare in Russia and want to buy in the United States. Many, people think of I bonds as a suitable midterm investnent - something you will hold onto for more than five years, but not much more than 10. They are not for a person who is going need the money next year. If you expect to keep that money invested for longer than10 years, it's reasonable to think about growing your capital rather than simply preserving it. You might invest some of your money in corporate bonds or other conservative investments,for example, or-even to real estate or the stock market. Still, the interest rate provided by I bonds is attractive. Here s a comparison: Over' he last 73 years the return on long-term and midterm U.S. government bonds has averaged 5.33 percent. But in the same period, inflation in the United States on has averaged 3.08 percennt. After- tax earnings therefore dropped - on aIverage - to 2.25 percent. I bonds now pay 3.4 percent above the U.S. Consumer Price index. Most Important, Russian inflation is mah higher and mostly produced deliverately through printing of money. A dollar denominated U.S. government bond would eli inatemuch of this soft currency inflation.
When volatility hits the stock market, risk adverse investors often turn to bonds as a safe haven, and now is no exception. Over the past few weeks - as stocks have fluctuated due to rising interest rates, inflation fears and concerns about a Y2K computer bug - a number of investors have chosen to shift out of equities and into bonds. or place new money into bonds. Yet while bonds are generally less volatile than stocks, they're not with-out risks themselves. In fact, 1999 hasn't exactly been a stellar: year for the fixed-income mar-kets. Bond prices have declined for many of the same reasons stock prices, have zigzagged.
For example, the total return of the Lehman Aggreate Bond Index, which includes corporate and government bonds of different maturities, stood at minus 0.7 percent at the start of the fourth quarter. Only once in the past 26 years has the widely followed index produced a negative return . (The year: 1994. The reason rising rates, which lower the value of existing bonds.) So does that mean investors should avoid,bonds right now? Most financial advisers think not and in recent weeks, quite a few of them have devoted their investment newsletters and financial reportst to bonds and bond mutual funds, pointing out their role in establishing a well-balanced investment portfolio,.especially now as Wall Street rides out a yearend storm. High-quality bonds serve as the foundation of an investment portfolio, providing stable, reliable income and a higher degree of safety of principal than equities.
Historically, stocks have had more than three times the number of losing years than bonds. It's not that stocks aren't worth the risk, but why risk everything? Many market watchers think bonds will rebound,-mainly because they aren't anticipating a substantial increase in interest rates anytime soon. Fed policy-makers, have raised short- term rates a quarter of a percent three times this year as a pre-emptive strike against inflation. The thinking on Wall Street is that the Fed won't increase rates again until next spring, with maybe two quarter,point increases in the first half of next year
For now, though, many fmancial advisers suggest investors looking for a diversified portfolio stick to short-term bond maturities or short-term bond funds. Avoid term bond funds. You can earn about the same yield on a five- year bond (5.8 perceent) as on a 30-year bond, and avoid most of the risk of market loss. Build a portfolio of bonds that includes a variety of maturities to ensure more stable, regular income. When you ladder your bonds, success isn't tied to interest rate movements. You get favorable results when rates rise or fall.
WHAT PEOPLE ARE SAYING ABOUT PALMS PORTAL
References, credentials, track-record
History of Palms & Company, Inc. 1934-1997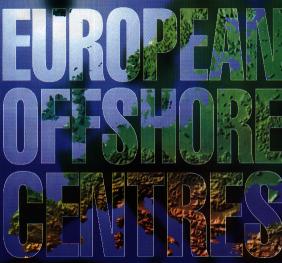 õòïöåîåã, äáõøìé, çèéÂòáìôò, çÕÅÒÎÓÉÊ, ïóôòï÷ íáî, öåòóéê, ìéþôåîûôáêî,
ìõëóüíÂõòç, íáìôá, û÷åêãáòóëéê
---
---

RETURN TO HOME PAGE
CAN YOU REALLY RELY UPON PALMS & COMPANY?
You are One of the
Who can. (World Population Counter)
---
Attention Brokers, Agents , Intermediaries , Mandates of Principals/Buyers
Go to TOP of this page

RETURN TO HOME PAGE
---
Go to TOP of this page
6421 Lake Washington Boulevard North East
State of Washington, United States of America, 98033-6876 Phone: 1-425-828-6774 & 1-425-827-5528 Branches: 41 World-wide
email: Marketing@PeterPalms.com
Consulting telephone: click HERE Created Nov 2002 Last Revision: 6/23/2004
Copyright 1995-1996, Palms and Company, Inc., All rights reserved Webmaster - Web maintenance - Revenue Generation Responsibility
---
---
---

Offices in Russia - Branches
---