Document Courtesy of Palms & Company
RAW RABBIT FUR PELTS FROZEN - DRIED OR
SALTED SKINS
You are One of the People HERE. (World Population Counter)
Know With Whom You Are Doing Business
You may wish to decide whether you feel comfortable about our credibility, before you read our opinions and advice
Credentials
The many faces of Dr. Palms
References - Testimonials - History
Awards

Awards
IBM - ATT - Microsoft - Magellan - Time Warner - Europe Online - NYNEX
This firm is federally licensed by the United States Government. All shipments are in strict compliance with the laws of the United States as administered by the United States Department of The Interior, U.S. Fish & Wildlife Agency.
CLICK HERE FOR OTHER PRODUCTS

CLICK HERE FOR
---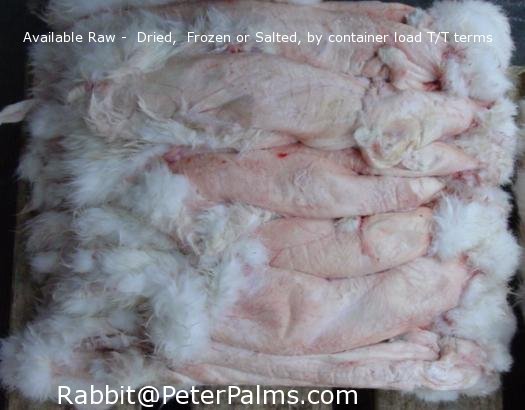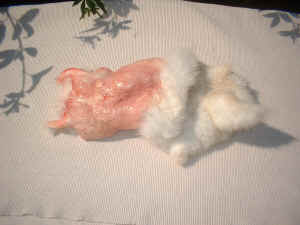 To enlarge these three pictures click on them

For pictures of of tanned rabbit pelts
Proceed to http://www.PeterPalms.com/rabbit
---
Terms Only T/T wire transfer with order
Minimum orders by container load 70,000 skins per container.
New Customers should expect their first orders will take longer to ship than subsequent orders
We do not make quotes. We are not a rabbit meat processing plant. But we do know such plants and offer services as a purchasing agent. In the past 5 years no one in China has been willing to enter into such a contract. so we have stopped responding to such inquiries

As you know rabbit meat processing plants in France and Spain are completely sold out already to other Chinese importers on long term exclusive contracts which prevent any Chinese companies from buying from such meat processing plants

Chinese companies which actually tan such raw pelts and convert them into apparel have told about 25,000 intermediaries in China about their desire for more pelts, because even they themselves can't find them. We get 10 calls per week for intermediaries who know nothing about the raw pelt market situation globally. They don't even understand what type of food consumption habits a country has to have in order to be a potential supplier.

We don't think it is worth our time, answering a lot of commercial intelligence questions for all these intermediaries which ultimately lead to the same Chinese buyers. These buyers are only seeking commercial intelligence of the location of additional meat processing plant so they can directly buy their total production

There is no potential business here for us. Other than to be paid in advance for being a commercial intelligence gatherer on a fee basis of $0.03- per pelt annually on 10 to 50 forty foot containers annually

Here are our references and credentials
http://PeterPalms.com/credentials

Our email is
mailto:UnitedStatesFurExchange@PeterPalms.com


PRICE
Many factories in countries other than Spain and France have not yet discovered a market for their raw rabbit pelts. Many are destroying this
by-product of their rabbit meat production by burning the skins. This was the case in Eastern Canada until recently when Chinese buyers discovered these meat processing factories.
Prices worldwide have ranged from $0.15 to $0.65. Even today prices are highly negotiable at meat packing factories which are presently burning their rabbit skins. We are confident that we can represent Chinese buyers and assist them to negotiate the prices they want to pay and to have the factories quality control the specifications of the buyer for quality
Conversion of factories from burning to export can involve.
1. Improvement of preparation for freezing in reefer containers, including minmization of the quantities of water used and method of removal of skins from meat.
2. Arranging for a regularly scheduled deliveries of reefer containers to the meat processing plant and back to the ocean docks, loading ships and provision of uninterrupted electricity
3. Scheduling with freight forwarders of regular availability of cargo ships for reefers.
Creation of these facilities may require investment on the part of the Chinese buyers, or if they are unable or unwilling to do so, require investment by Palms & Company in these facilities

In exchange for such investment in facilities, We will require long term commitments from the meat processing plants as well as from The Chinese Buyers. For Mulitiple containers of frozen, dried or salted rabbit skins we would not buy from our suppliers until we have received an order and payment from our Chinese customer. The scheduling of purchases to match our delivery commitments involve logistics and planning and long term commitments to take deliveries, which do not lend themselves to meeting unexpected new customer orders, on short notice.
We function best in relationships where we function as purchasing agents on a long term contractual basis.
We do not finance or provide banking services to our customers for financing of their inventory purchases. We buy product from our suppliers with our customer's money

We are accepting expressions of interest for deliveries late in 2011 and 2012
Samples: Only dressed samples are sent at a cost of $100
Inspection of goods is not possible prior to payment. All skins are in accordance with inspection grading standards and precisely to the weight, size, color and other specifications of the buyers.
The skins might be from Spain or France but most likely from other countries

For credenitals click here
For information about Palms & Company's experience in China please visit
Modern China Business Practices and facilities for import and export with Palms & Company, Inc.
---

About The Portal To Russia -----

How To Subscribe -----

Электронная почта Dr. Palms
CLICK ON PHOTO FOR LARGER VIEW!
REX CHINCHILLA DYED REAL FUR JACKET $700
click here to send email requesting information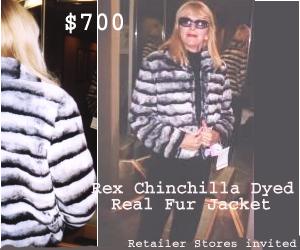 ---
Rabbit Pelts $2.00 Minimum order 250 pelts. To order contact PeterRabbit@PeterPalms.com
CONTAINER LOAD OF FUR PELT SCRAP AND RAW FUR PELTS AVAILABLE.
TERMS: WIRE TRANSFER WITH ORDER
PRICE: PLEASE ADVISE PRICE AT WHICH YOU WISH TO PURCHASE
ORIGIN: FRANCE , SPAIN, BRAZIL

---
CAN YOU REALLY RELY UPON PALMS & COMPANY?
You are One of the
Who can. (World Population Counter)
---
Attention Brokers, Agents , Intermediaries , Mandates of Principals/Buyers
Go to TOP of this page

RETURN TO HOME PAGE
---
Go to TOP of this page
6421 Lake Washington Boulevard North East
State of Washington, United States of America, 98033-6876 Phone: 1-425-828-6774 & 1-425-827-5528 Branches: 41 World-wide
email: Marketing@PeterPalms.com
Consulting telephone: click HERE Created Nov 2002 Last Revision: 7/23/2013
Copyright 1995-1996, Palms and Company, Inc., All rights reserved Webmaster - Web maintenance - Revenue Generation Responsibility
---