Document Courtesy of Palms & Company

FUR FARMS IN AMERICA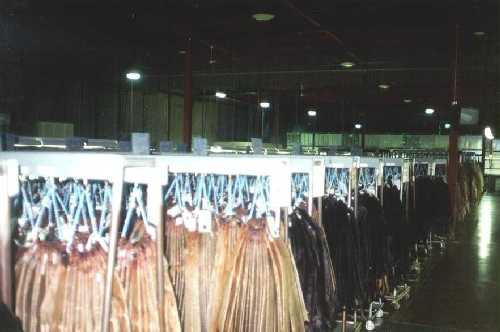 ---
---

About The Portal To Russia
How To Subscribe

Электронная почта Dr. Palms
---
---
FUR FARMING IN NORTH AMERICA
Today's farm-raised furbearers are among the world's best cared-for animals. Good nutrition, comfortable housing and prompt veterinary care have resulted in domestic animals very well suited to the farm environment. Precise attention to animal care has enabled North American farmers to produce the finest quality fur in the world.
In 1994, family fur farms in North America produces approximately 3.3 million mink and fox pelts with a value of nearly $113 million. The U.S. produces about 10% of the world's mink supply, while Canada accounts for another 4 percent. Much of this fur is exported to other parts of the world. There are about 1,200 mink and fox farms in North America. Many more mink are raised than foxes, and mink farms are generally larger operations than fox farms.
LIFE ON THE FARM
Most fur farms in North America are family businesses, often operated by two or three generations of the same family. Today's young fur farmer generally has a college degree in agriculture, biology or business. Virtually every fur farmer begins by serving at least a one-year apprenticeship on a well-established farm to learn the complete annual fur production cycle.
Life on a fur farm revolves around the natural reproductive cycle of the animals. Fox and mink breed in February and March respectively, and their young are born in April and May. There are generally four active kits in each litter. Young mink and fox are weaned at six to eight weeks old. Fur farmers vaccinate their young kits for botulism, distemper, enteritis, and if needed, pneumonia. The animals molt in late summer and early fall after which they produce their winter fur. They are harvested as mature animals at full prime in late November and December.
While the typical life expectancy of a mink in the wild is 1.6 years, the average lifespan of a farm-raised mink is 1.7 years, even allowing for harvest. The healthiest and most fecund animals are retained as breeding stock, with an average lifespan of four to five years.
North American mink and fox farmers are strongly committed to the ethic of humane care. To promote good animal husbandry and humane farm management practices, they have developed comprehensive standards of practice. Created in consultation with veterinarians and animal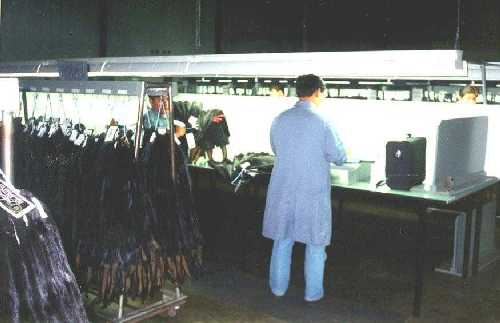 scientists, the standards contain guidelines for farm management; accommodations; food and watering systems; health and disease control; environmental quality; transport of live mink; and euthanasia. The standards are administered in the United States by the Animal Welfare Committee of Fur Commission USA (FCUSA), and in Canada by the Canada Mink Breeders Association. They are periodically revised to reflect the most current knowledge of animal care and the most humane management techniques.
HUMANE EUTHANASIA
Humane euthanasia techniques practiced on fur farms are those recommended by the American Veterinary Medical Association in the United States and by the Guelph University Research Facility in Canada.
The ONLY method of euthanasia for mink certified by FCUSA Animal Welfare Committee is pure carbon monoxide or carbon dioxide bottled gas. The animals are immediately rendered unconscious and die without stress or pain. Due to the larger physical size of fox, the American Veterinary Medical Association approves lethal injection as the most humane method. This is the ONLY method recommended by the FCUSA Animal Welfare Committee. These are the same methods used by many local humane shelters. In the United States, the U.S. Department of Agriculture (USDA) includes fur farming in annual agriculture production statistics and reports, as do most state agriculture departments. In Canada, fur farming is licensed and regulated by the provincial departments of agriculture.
Beautiful, warm, durable fur is just one of the byproducts of fur farming. The entire animal is used. Mink meat is processed to become protein meal, a basic ingredient in pet and animal feeds. In mink, the layer of fat between the pelt and carcass produces mink oil, an important ingredient in hypoallergenic soaps, cosmetics and hair care products. Mink oil is also used as a lubricant for fine leathers to keep them soft and supple. Nutrient-rich manure from fur farms, an environmentally preferable alternative to chemicals, is in heavy demand as natural fertilizer for crop fields.
COMMITMENT TO HUMANE CARE
Fur farmers are committed to the humane care and responsible treatment of their animals. Their success depends on it. As any animal owner knows, the condition of the fur is one of the clearest indications of a healthy, well-cared-for animal. Since a fur farmer's livelihood comes from producing top-quality fur, the well-being of his animals is a prime concern. But more than this, only a person who has a genuine love of animals and a deep concern for their welfare becomes a fur farmer.
HUMANE CARE MERIT AWARD CERTIFICATION PROGRAM
The fur industry's Merit Award program was one of the first formalized humane care certification programs in U.S. agriculture. In consultation with veterinarians, animal scientists, wildlife biologists and farmers, the industry developed a set of rigorous standards for the humane production of farm-raised furbearing animals. Farms meeting the standards receive a Merit Award certification only after an independent licensed veterinarian has completed a comprehensive inspection to verify compliance. Nearly 95% of U.S. mink production comes from certified farms.
---
---
Go to TOP of this page

RETURN to Palms' Lobby

RETURN TO HOME PAGE
CA
N YOU REALLY RELY UPON PALMS & COMPANY?
You are One of the
Who can.
(World Population Counter)
---
---
Attention Brokers, Agents , Intermediaries, Mandates of Principals/Buyers
Go to TOP of this page

RETURN TO HOME PAGE
---
Go to TOP of this page
6421 Lake Washington Boulevard North East
State of Washington, United States of America, 98033-6876 Phone: 1-425-828-6774 & 1-425-827-5528 Branches: 41 World-wide
email: Marketing@PeterPalms.com
Consulting telephone: click HERE Created 1995 Last Revision: 6/23/2004
Copyright 1995-1996, Palms and Company, Inc., All rights reserved

---
---
---
---