Document Courtesy of Palms & Company

MILAN FUR SHOW MARCH 1997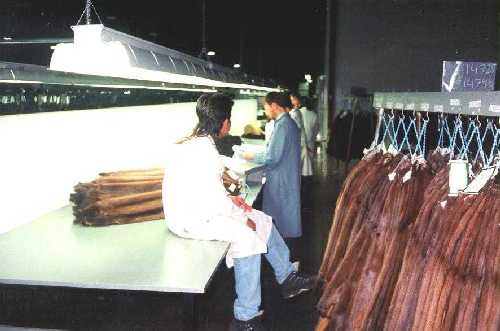 ---
---

About The Portal To Russia
How To Subscribe

Электронная почта Dr. Palms
---
---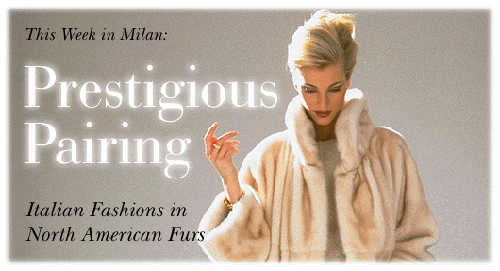 The international fur fair season focused on Milan, as usual for the trade in the middle of March. While the fair will feature world-renown Italian designer furs and include the Majestic Ultra showcase of some of those designs in prestigious North American mink, the banner under which they appear is definitely different from years past. After a protracted legal battle following the departure of the 31-year-old Comispel from Milan to Lausanne, Switzerland, a new fair -- called Mifur -- premieres this year in Milan.
Ente Autonomo Fiera di Milano (the Milan Fairgrounds Authority), organizer of Mifur, will present more than 160 exhibitors in over 14,000 sq. meters and play host to an international roster of buyers Mar. 13-17. It foresees a strong presence especially from Korea, Japan, Russia, Germany and Spain.
"Despite the fact that the current economic situation does not particularly favor consumer goods, the sector's operators will come to the Exhibition tough and ready to demonstrate that the Italian fur industry has a strong tradition, and that Italian fashion is unique throughout the world," said a representative for the new Fur and Leather Exhibition.
The fifth annual Majestic Ultra gala fashion show, sponsored by North American pelt labels American Ultra mink, Majestic Fur, and Northern Supreme wild fur, is expected to be yet another jewel in the crown of the Milan fur trade. On the runway Thursday, Mar. 14, will be designs from Angelo Danzi High Fashion, de Carlis, Gianfranco Ferre Fourrures, Genny, Pikenz, Solleciti and Vito Nacci.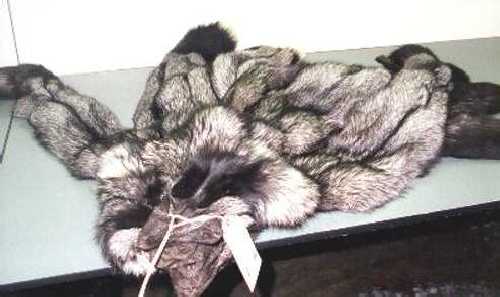 This year the event will benefit an AIDS charity called ANLAIDS, the National Association for the Battle Against AIDS. Since it is for a good cause, the gala gained some celebrity support: the finale, featuring men's furs, will present seven celebrity models. As of last week, the show was nearly sold out. Another special event is a Friday night dinner and Mifur in Passerella, the exhibitors' fashion show, featuring designer fashions by Albertalli Pellicce, Bodies Fur International, Briante, CBF Centro Bel Furs, Del Brembo, Jun, Landi, Manetti Centro Italia Pelliccerie, Maxime, Nadler, Partner, Saripel, Sinclair, Tosato, Toschi and Pollastri.
The fair will use modern technologies to provide visitors with a more convenient experience, including advance registration with bar-scan computer programs used to enable immediate entry and avoid waiting in lines.

---
---
Go to TOP of this page

RETURN to Palms' Lobby

RETURN TO HOME PAGE
CA
N YOU REALLY RELY UPON PALMS & COMPANY?
You are One of the
Who can.
(World Population Counter)
---
---
Attention Brokers, Agents , Intermediaries, Mandates of Principals/Buyers
Go to TOP of this page

RETURN TO HOME PAGE
---
Go to TOP of this page
6421 Lake Washington Boulevard North East
State of Washington, United States of America, 98033-6876 Phone: 1-425-828-6774 & 1-425-827-5528 Branches: 41 World-wide
email: Marketing@PeterPalms.com
Consulting telephone: click HERE Created 1995 Last Revision: 6/23/2004
Copyright 1995-1996, Palms and Company, Inc., All rights reserved

---
---
---