Document Courtesy of Palms & Company

FUR PRICE FEARS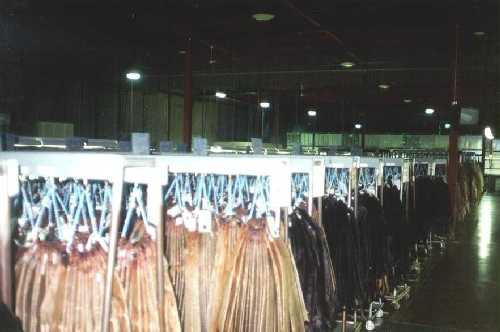 ---
---

About The Portal To Russia
How To Subscribe

Электронная почта Dr. Palms
---
---
He who lives by price can die by price. That's the fear of many North American retailers and manufacturers this year, as they try to cope with skyrocketing mink pelt levels and determine a new price structure that won't alienate too many customers but still reap a profit. Making matters worse is the fact that in the purely supply-and-demand international auction structure, U.S. and Canadian buyers have very little influence on the market. They must keep up with the 50% to sometimes staggering 100% jumps over just a year ago that have been driven by the seemingly insatiable demand from other countries, especially Korea and Russia.
"You can't even get in the bidding at a level below what's already ridiculous," said one frustrated buyer after the season-opening sale in Seattle last week. He knew it was inevitable, though, after watching foreign bidders sweep through other international auctions like Sherman's march.
Prices on top-quality North American mink advanced 45-75% in Seattle, the site of the first auction for these goods this season. And nobody expects them to fall off. If anything, some industry experts say they could continue to climb through May.
There's no telling yet the effect this will have on the consumer come October, and that's what's got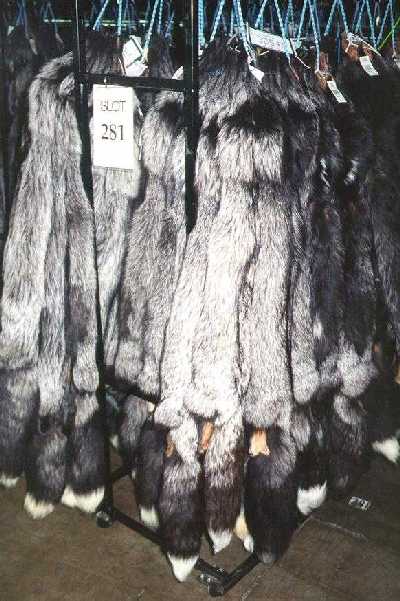 retailers and manufacturers worried. Better goods will not be hit as hard as commercial or moderate-priced garments, because the increase will not represent as great a percentage of their overall ticket. Most analysts say that the popular $1,995 coat will go the way of the dinosaur.
While this is intimidating, companies that deal in better goods say the picture is not entirely grim: sales of upper end minks picked up at retail this year; phenomenal fashion coverage in the media created awareness of fresh styles, and higher prices could bring back some of the prestige that mink lost in the discounting '80s.
Therefore, the segment of the trade that relies on quality and fashion might have less reason to worry. The better customer is already beginning to learn that, if she wants top fashion and good selection, she shouldn't wait until New Year sales. Coming off of a successful selling season, inventories are mostly clean, which is currently creating shortages of merchandise in some areas. Often, consumers looking for deep discounts at the end of the season have found slim pickings. This isn't necessarily a bad thing, better retailers say, because it might reverse the training they've received to buy furs only at a bargain.
The same goes for retailers who have been buying closer and closer to their time of need. They might want to place orders earlier this year in order to get their hands on any merchandise at all. The current shortages are just an omen of things to come, say many. With prices up so drastically, how many North American manufacturers can afford to buy heavily and create an extensive line? Manufacturers say this will inevitably lead to a smaller number of units sold, but at greater prices. How much greater those prices will be is yet to be determined. Makers of top quality North American minks say they might interpret pelt price advances of 50-75% as garment price increases of at least 30%. Smart merchants already have been putting in orders to try to beat the sticker shock.
Still, nothing but questions hover right now. How much of the pelt price increase will be passed along to consumers? Will consumers pay these elevated prices? Will retailers pay them? Will they be absorbed by lower profit margins taken by both manufacturers and retailers? No one has definitive answers.
Ralph Romberg Neiman Marcus Dallas, TX "This is going to affect all of us," said Romberg, though he admitted that his operation might not be hit as greatly as others that rely on moderate or commercial goods, because with less expensive furs, pelt prices represent a greater percentage of the markup. Also, prices have advanced by a greater percentage on commercial and moderate quality pelts than on top quality ones, because Russian buyers especially are interested in the lower end of the market. For example, in Seattle, Blackglama male mink increased 45%, while standard North American males increased 92%.]
As for specific advances on garments prices, Romberg said, "I'm not sure. From what I see, they will probably be about 20-35%."
"We're going to have to rethink what we do. It's going to be a big challenge to re-educate the customer. I think we're going to have to move back to that luxury niche, which could be a good thing."
Nick Pologeorgis Pologeorgis Furs New York, NY "This is a huge increase," said a somewhat stunned Pologeorgis when he returned from a buying trip to Seattle last week. There he picked up a variety of mink colors in top qualities at prices advancing 50-75%. "Not too many people from the U.S. were buying," he continued, "but if you want to be in business, you've got to have merchandise. My customers want American goods. If they tell me to buy something else, then I will, but for now, this is what I've got to do.
"I have no idea how much garments will cost, though I know they'll be much higher." He was forced to work out his new price structure last week, though, because he is showing part of his '96 collection at the Hong Kong fair this week. "We probably will have to work a little bit closer [with profit] this year. I know prices are up at least 30% over last year's cost.
"There really aren't many goods in the market right now. Retailers have been buying early to get last year's prices. I have orders from companies I consider merchants, good customers of mine who have done very well by placing early orders."
Pologeorgis sees the trend as having both an up and a down side: "Mink will mean something now, but I don't know how many stores can handle the better goods."
Tom & Gwen Nacos Global & Natural Furs Montreal, Quebec "I think it's too early to tell what's going to happen with garment price increases," said Gwen Nacos of Natural Furs, which produces high quality mink garments. "There's definitely going to be a price increase, but I'd like to think it will level off. Hopefully by the beginning of April we'll have an idea; by then we'llhave to take a stand, because that's when our customers start coming in to buy."
"I don't feel well at all" about these increases, said Tom Nacos of Global, which also manufactures garments for Natural Furs. Nacos buys a large quantity of pelts every year, including better North American goods. Last week he said that he doesn't see mink prices dropping soon. "We're dealing with markets that weren't active before at all. Even if they don't need more merchandise, they'll be at those auctions to protect the prices they've already paid."
Nacos said he expects garment prices to rise a minimum of 30%, but he will determine that number by buying at every sale and then averaging out pelt prices.
"It's a very difficult situation. Demand from these new markets is strong, while production is less than half of what it once was. I don't think retailers realize what's been happening. They have a real awakening ahead of them. There will be fewer garments available, maybe shortages. Retailers better get used to the idea that even Global Fur [which is known for its extensive inventory] might not have what they're looking for."
Sal Sorbara Sorbara Furs New York, NY Coming off the Seattle Fur Exchange auction and getting ready to buy at North American Fur Auctions the very next day, last week Sorbara was bullish on the new price structure for several reasons. First, he believes it will "bring the fur industry back to what it once was and what it should be -- a real, prestigious luxury business." He predicted that it will result in a shakeout of weaker companies. And, he said, the fewer number of garments available will send a message to consumers that the fur business is healthy, and they're taking chances if they always wait for sales.
"We don't have inventory left," he said. "We don't go on sale. All of these sales have brainwashed the consumer."
Sorbara Furs will probably structure its prices to cut its markup and take the same profit, in order to accommodate buyers and achieve a price increase on garments that its customers can handle.
"We'll be more competitive than ever before, because other people who have been selling less expensive goods will be forced to mark up prices closer to where we are."
George Haralabatos Mink Mart New York, NY Haralabatos is taking a wait-and-see attitude toward garment price increases, prefering not to speculate. He deals in top North American mink garments and has a reputation for maintaining an ample inventory of skins. "We are very small buyers right now," he said. "I'm going to wait until after the [NAFA] auction in New Jersey [this] week. If New Jersey is similar to Seattle, then garment prices will probably increase a minimum of 30%."
Ed Graf Ben Kahn Furs New York, NY "We did purchase in Seattle and plan to buy in New Jersey," said Graf. "My opinion is that prices will continue to go up through the rest of the season, so we should buy early."
He feels that it's too soon to determine the new garment price structure, especially because new fashion trends might dictate narrower silhouettes calling for fewer skins.
"We've gotten calls from stores recently, asking for prices on high-end mink garments, but I haven't quoted anybody yet. Maybe in about a month. We will wait as long as we can to set our new price structure; it's a big decision.
"Some money might be saved by making a coat that's less full, but I'm not going to sacrifice the integrity of the coat. I'll only go in this direction if that's where fashions are. For instance, a 100-inch sweep might translate into an 80-inch sweep this year."
Graf said his company bought a lot last year and still has available some merchandise, which it is selling at last year's prices for good good customers. "I think retailers who are well-financed are probably taking a position now on last season's prices," he added.
Overall, he said, "Historically, I think higher prices have been good for the fur business. When prices have been in a downward trend, the industry has suffered. I think this will be a good year. The cold winter was nice, the economy held up, and -- most importantly -- the item is fashionable again."

---
---
Go to TOP of this page

RETURN to Palms' Lobby

RETURN TO HOME PAGE
CA
N YOU REALLY RELY UPON PALMS & COMPANY?
You are One of the
Who can.
(World Population Counter)
---
---
Attention Brokers, Agents , Intermediaries, Mandates of Principals/Buyers
Go to TOP of this page

RETURN TO HOME PAGE
---
Go to TOP of this page
6421 Lake Washington Boulevard North East
State of Washington, United States of America, 98033-6876 Phone: 1-425-828-6774 & 1-425-827-5528 Branches: 41 World-wide
email: Marketing@PeterPalms.com
Consulting telephone: click HERE Created 1995 Last Revision: 6/23/2004
Copyright 1995-1996, Palms and Company, Inc., All rights reserved

---
---
---