Document Courtesy of Palms & Company
RUSSIAN SULFUR INDUSTRY

You are One of the People
HERE. (World Population Counter)
---
---

About The Portal To Russia -----

How To Subscribe -----

üÌÅËÔÒÏÎÎÁÑ ÐÏÞÔÁ Dr. Palms
---
---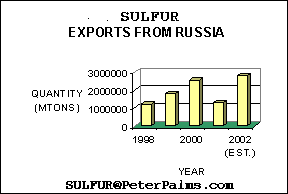 SULPHUR exports from Russia first surfaced in the early 1990's as a result of the dramatic drop in domestic consumption, caused mainly by the disintegration of the Former Soviet Union. Exports of a few hundred thousand tons in the early/mid 1990's were gradually increased to above one million tons in 1998 and expanded to reach 2.6 million tons in 2000. However, market conditions led to a drastic cutback in exports in 2001, when about 1.6 million tons were poured to block. This year, volumes are set to rebound; current estimates for 2002 suggest that sulfur exports may exceed 2.8 million tons and could even reach three million tons if market conditions remain favorable.


Main supply sources for export

Gazprom's refineries at Astrakhan and Orenburg are the sources of Russia's sulphur exports. Astrakhan Gazprom started forming sulfur in 1996 via a joint venture which financed the construction of two facilities with a yearly capacity of about 1.5 million tonnes. A further 2.5 million tons or so of crushed lump sulphur can be produced annually. Currently, plans are in place to construct a new forming facility to process an additional 1.8 million tons in Astrakhan. In addition, about 1.5 million tons is supplied to phosphate producers within the CIS.
Russian sulfur exports are strategically important to major phosphate producers in north and west Africa and the entire Mediterranean region, as well as Indonesia. In recent years, Russian sulphur exports have also established this source as another major supply hub, alongside Western Canada, Brazil and the Arabian Gulf regions.

Exporter's role in the Russian sulfur trade

An exporter has performed a very important role in the marketing of Russian sulphur in the international arena. Since 1998, the bulk of all Russian sulphur has been exported by one exporter. Exports in 2001 were halved due to the very low price levels prevailing in international markets. The outlook for 2002 is much more promising; with sulfur supply and demand now roughly in balance, price levels have improved and, given continued price stability at these substantially improved levels, hardly any surplus production will be poured to block.

Beyond 2002, sulphur experts predict an average world consumption increase of about 2% pa through to 2010, when consumption is forecast to approach 40 million tonnes. The main increases in demand will come from Africa and east Asia, according to The Sulphur Institute. In the Western World, substantial increases in the use of sulfur as a plant nutrient are predicted, along with a rise in sulphur offtake as a feedstock for sulfuric acid production which, in turn, with be utilized in the phosphate industry. In Russia, after virtually a decade of decline, domestic phosphate fertilizer deliveries have been increasing at an exponential rate since 1999 and demand is expected to grow at a very high rate for the remainder of the current decade. As a result, sulphur use, both within Russia and in the neighboring FSU countries, will also expand substantially.

Overcoming problems of oversupply in the future

To offset expected increases in recovered sulphur production rates in the ensuing years, alternative sulphur uses outside of the phosphate and fertilizer field are being ardently pursued. Among these alternative uses, are: sulphur asphalt, sulphur concrete, sulphur batteries, sulphur fuel and sulphur lamps. Additionally, sub-surface sulphur storage is being investigated in Canada as a substitute for open air "vats" while studies for stripping acid gases and re-injecting in storage wells are being considered.

It remains to be seen whether the recent oversupply conditions will prevail in the foreseeable future. What is known is that the demise of the Frasch sulphur production industry in key regions, such as the USA and Poland, will not be reversed, given current market supply/demand estimates for recovered sulphur through 2010. In addition, the increasing shift from the production of sulphuric acid based on pyrites to sulphur-based output in China has considerably stimulated sulphur demand.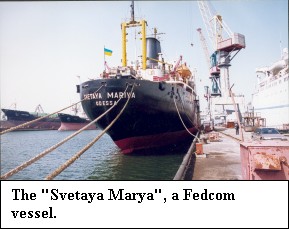 Major logistical enhancement to enter service

The key to the long-term presence of Russian sulphur in the world market is the continued improvement of the logistics involved in moving the sulphur from the inland production sites to seaports on the coast of the Black Sea. To ensure such a presence continues and to improve the economics of export operations, An Exporter, together with a notable transportation company, has acquired the port facilities at Ust-Donetsk from the Russian Government. Located on the Don River north of the Azov Sea, the port was built in 1960, and about 10 million tons of various commodities were handled annually while under the control of the Soviet Union. Since then, traffic has reduced substantially; consequently, the Russian government is supportive of activities designed to reactivate the port. Moreover, Ust-Donetsk is the only port that allows sulphur storage in the region.

Navigation down the river from Ust-Donetsk is open from April until November. The port is equipped with 26 portal and 5 floating cranes; all have been renovated. In total, the quay frontage stretches for 1.4 kms and comprising 10 berths. Covered storage capacity totals about 1,700 square meters and open storage, ideal for sulphur, covers some 90,000 square meters, an area capable of storing more than 600,000 tonnes of sulphur. All major work has been completed and the port will be operational for sulphur handling and storage as of the end of April 2002.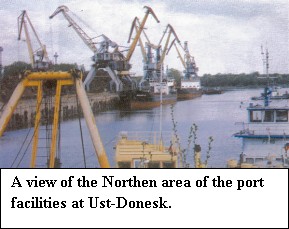 In addition to direct barges, shipments from Buzan (Astrakhan) to Kavkaz/ Kerch in the Azov Sea during April/November, The Exporter intends to use this new facility at Ust-Donetsk to handle the bulk of its sulfur shipments from Astrakhan and Orenburg by rail, for further dispatch by barges down to Kerch, ultimately for reloading onto sea-going vessels, including panamaxes, for export. A buffer stock up to 500,000 tonnes will be used to improve loading rates and product availability closer to the port, especially during the fall-winter season. A vast fleet of barges and floating cranes will be dedicated exclusively to ensure the efficient operation of this new sulphur delivery system.
In brief, the Exporter is committed to enhance the viability and continuity of Russian sulphur exports by optimizing its related logistical systems and so ensuring an uninterrupted and efficient vessel loading program in the Black Sea.
Accordingly, Palms & Company continues to view Russia as a viable alternative source of supply to Canadian supply sources especially since there exists opportunities to save from 10-40% in prices through arbitrage transactions combined with creative use of alternative payment terms. Palms & Company offers its consulting and advisor services as Purchasing Agents to buyers/principals/users world wide in facilitating these cost savings.
While Palms & Company only represents principals, it accepts introductions to principals/buyers/users from intermediaries on the basis that it will not consummate any transaction with such buyers, until the intermediary has received a compensation agreement, acceptable to the intermediary. If , at the time of the introduction there is an existing ageement between the intermediary and the buyer, Palms will honor such agreement.
.

---
CAN YOU REALLY RELY UPON PALMS & COMPANY?
You are One of the
Who can. (World Population Counter)
Attention Brokers, Agents , Intermediaries, Mandates of Principals/Buyers
Go to TOP of this page

RETURN TO HOME PAGE

Go to TOP of this page
6421 Lake Washington Boulevard North East
State of Washington, United States of America, 98033-6876 Phone: 1-425-828-6774 & 1-425-827-5528 Branches: 41 World-wide
email: Marketing@PeterPalms.com
Consulting telephone: click HERE Created 1995 Last Revision: 6/23/2004
Copyright 1995-1996, Palms and Company, Inc., All rights reserved