UPDATED WINTER 2016
Tel or leave message at 425 828 6774
Arts & Crafts Banner Exchange by Craft Site Medic

FUR SCRAP

Click here for 300 Full screen pictures of our products

The socio-Economic Impact of International Fur Farming
MIXED UNSORTED
DRESSED FUR PELT PIECES OF
CHINCHILLA, RABBIT, FOX, LYNX, COYOTE, ARTIC TIMBER WOLF, RACCOON, MUSKRAT, MINK, SHEARED BEAVER, BEAVER, BADGER, FISHER, NUTRIA, OTTER, WOLVERINE
This firm is licensed by the United States Government. All shipments are in strict compliance with the laws of the United States as administered by the U.S. Fish & Wildlife Agency.
Suitable for making: fur cuffs, collars, jackets, coats, blankets, tying fishing flies, quilts, arts and crafts work, fur teddy bears, Arizona Hopi, Navajo Kachina doll, dolls, dolls hair, leather work, Native American apparel, Mountain man clothing, Davy Crockett Apparel, Daniel Boone hats, fur hats
SAMPLES

Delivery within United States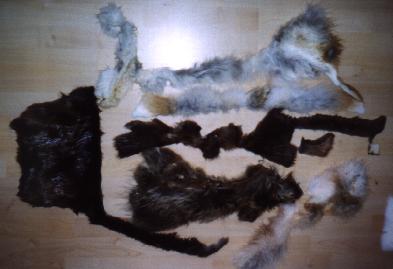 $20 per pound
Three Pound Box of mixed scrap available, delivered anywhere in the United States
by air, insured, postage paid, including handling $75.00
$10 per pound
60 pound boxes of unsorted scrap are available for $600 delivered
freight paid and insured any where in the United States

Payment by postal money order, bank check, wire transfer, personal check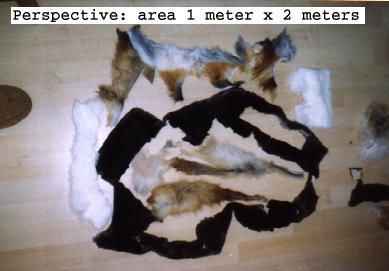 GEOGRAPHIC ORIGIN:
Thick cold weather pelts from The Yukon, The Arctic, The Northwest Territories, Canada, Alberta, British Columbia, Alaska, The Klondike, Montana, Washington, Idaho, Wyoming, Oregon, British Columbia
SHIPPING:
Shipped world wide by air c.i.f. delivery 7 days or ocean freight
SPECIFICATIONS:
Licensed by United States Government Fish & Wildlife Agency
Founded 1934,
Credentials, References, Testimonials, Awards Microsoft IBM, AT&T, provided upon request
Listed in Dun & Bradstreet
Listed by Better Business Bureau
International
World-wide
30,000 pounds by 20 foot container ocean freight $300,000 C.I.F. ($10.00 per pound)
Payment by bank to bank wire transfer
ALSO AVAILABLE: Fur hats, Fur Bedspreads, Fur Quilts, Fur Comforters, Fur jackets, Fur Coats, Fur Vests Fur Plates.
Small Sample Delivery World Wide
Handling and pricing of sample requests reflects the administrative costs of shipping and
handling and compliance with laws and does not constitute the price for commercial
quantities of scrap
Minimum size international shipments now 700 pounds
Three pounds shipment only to the domestic U.S. address of international companies for reshipment to themselves by themselves.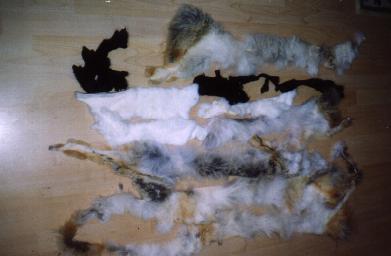 ---
SORTED FUR PIECES
CLICK HERE FOR
CLICK HERE FOR OTHER PRODUCTS
CLICK HERE FOR
Sheared Beaver - 700 pound bales
Long Haired Beaver - 300 pound bales
Fox Head On - 200 pound bales
Mink - 500 pound bales
Mixed Unsorted Scrap - 60 pound bales
or
Mixed Unsorted Scrap - 800 pound bales

Mink Tail 1000 kg. 15% white sapphire, gray 85% demi-buff and black $107 Kg
Mixed Mink leftovers, belly, ikaridiko (squares) head
not Lotto, top quality $40 kg
Mink paws (back and front) top quality 1000 kg demi-buff black $114 kg
Fox Tails blue silver size 0000 $6 per tail
Dyed Fox Tails (size 00-000 Price 3.20 per tail by 1000
COYOTE PELT LARGE PIECES
North American Coyote Pelts - Large Pieces (FRESHLY dressed scrap)
These are large high quality pelt pieces remaining after manufacturing hood trim of 2.5 inches x 25 inches from these pelts for garment manufacturers. These are highest quality large pieces of the original recently dressed coyote pelts.
Quantity 6600 pounds (more available every month)

Price: $12 per pound ( $26.40 per kilogram) f.o.b. United
States of America (Total $78,000)

Terms: T/T bank wire transfer with order

Licensed by United States Government Fish & Wildlife Service of
United States Department of the Interior.

Listed by United States Financial Reporting Service: "Dun &
Bradstreet" #144252012

Listed by United States Consumer Protection Service: "Better
Business Bureau"

United States Fur Exchange a Division of Palms & Company, Inc. Founded in 1934

We are looking for long term relationship with Chinese buyers of
fur pelts, fur pelt pieces and scrap including mink, sable, fox, coyote, muskrat, beaver, sheared beaver, chinchilla, nutria, otter, badger, fisher, artic timber wolf, wolverine, skunk, squirrel, rabbit.
---
International shipment of 20 or 40 foot containers available 17,000 kilograms to
China, Korea, Turkey, Greece, Japan Italy France
EXAMPLES OF SIZE AND TYPE UNSORTED FUR SCRAP IN OUR SHIPMENTS
(To judge the size of scrap pieces please note that pictures were taken of scrap
in areas 4 feet wide and six feet long)
TO SEND AN EMAIL FOR DETAILS ABOUT FUR SCRAP
PLEASE CLICK HERE
EXAMPLES OF SIZE AND TYPE FUR SCRAP IN OUR SHIPMENTS
(To judge the size of scrap pieces please note that pictures were taken of scrap in areas 4 feet wide and six feet long)
| | | |
| --- | --- | --- |
| 1. beaver with fox, lynx, coyote, in center | 2. beaver with coyote sable mink incenter | 3. beaver with white and black fox in center |

CLICK ON ANY PHOTO TO ENLARGE IT
| | | |
| --- | --- | --- |
| 4. beaver with lynx in center | 5. beaver with coyote in center | 6 - Typical mixture of lynx coyote in pieces as large as 4 feet |
| | | |
| --- | --- | --- |
| 7. Typical mixture of lynx and coyote in pieces as large as 4 feet | 8. Close up of the top left portion of 9 | 9. all of 8 & 10 & 11 |
| | | |
| --- | --- | --- |
| 10. Close up Center left of 9 | 11. Close of of bottom of 9 | 12 All pieces in 9 closer together |
| | |
| --- | --- |
| 11. Close up of bottom of 9 | 12. All the same pieces as in 9 but closer together |
| 13. Examples of smaller pieces | 14. Examples of smaller pieces |
| 15 . MORE ASSORTED MEDIUM PIECES OF MINK FOX COYOTE LYNX | 16. MORE ASSORTED MEDIUM PIECES OF MINK FOX COYOTE LYNX |
MIXED SCRAP CONSISTS OF WOLF COYOTE LYNX BEAVER FOX SABLE MINK
15 - MORE ASSORTED MEDIUM PIECES OF MINK FOX COYOTE LYNX - 16
CUSTOMIZED SORTING OF SCRAP BY SPECIES POSSIBLE FOR QUANTITIES OF 1000 POUNDS OF MORE
---
---
NEED INCOME TO PAY FOR ARTS & CRAFTS SUPPLIES?
THE PERFECT ITEM TO SELL AT CRAFT'S FAIRS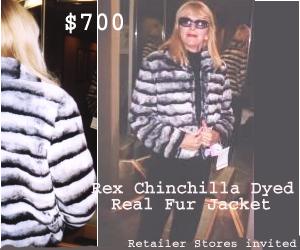 BUY ONE - TAKE MEASUREMENTS - BOOK ORDERS
( YOUR OWN PRIVATE LABEL POSSIBLE)
CHINCHILLA FULL PELTS $50- EACH A FULL 15 INCHES LONG AND 5 INCHES WIDE TO 3 & 1/2 INCHES AT NECK( 38 CENTIMETERS LONG AND 12.5 CENTIMETERS WIDE)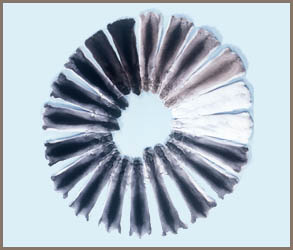 TO SEND AN EMAIL FOR DETAILS ABOUT CHINCHILLA PELTS PLEASE CLICK HERE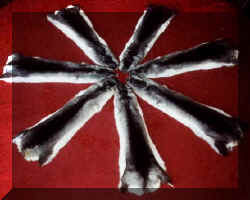 Shipping, handling and insurance in USA $10 per order.
International shipments $20
Orders for 20 pelts or more Seller pays shipping costs world wide
---
---
---
Attention Brokers, Agents , Intermediaries, Mandates of Principals/Buyers
Go to TOP of this page

RETURN TO HOME PAGE
---
---
---
Go to TOP of this page
6421 Lake Washington Boulevard North East
State of Washington, United States of America, 98033-6876 Phone: 1-425-828-6774 & 1-425-827-5528 Branches: 41 World-wide
email: Marketing@PeterPalms.com
Consulting telephone: click HERE Created Nov 2002 Last Revision: 7/23/2013
Copyright 1995-1996, Palms and Company, Inc., All rights reserved