UPDATED 2012 WINTER 2013
BLACKGLAMA CHOOSES JANET JACKSON
From Lena Horne to Liza Minelli
From Elizabth Taylor to Audrey Hepburn
From Marelene Dietrich Lauren Bacall
From Diana Ross to Janet Jackson
From Palms & Company and United States Fur Exchangeto You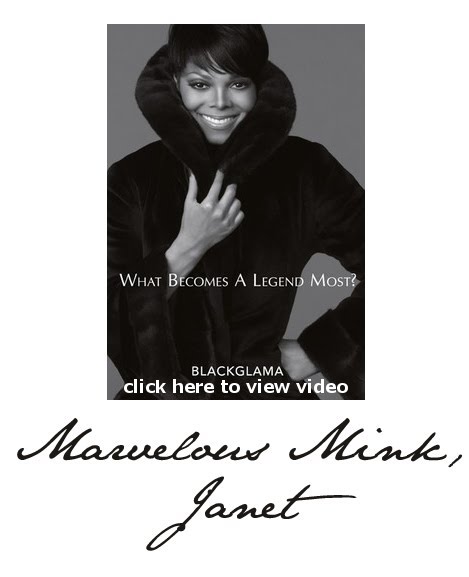 CHINCHILLA

CLICK HERE FOR
REX CHINCHILLA DYED REAL FUR JACKET
$700 -TO $1295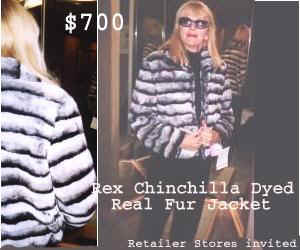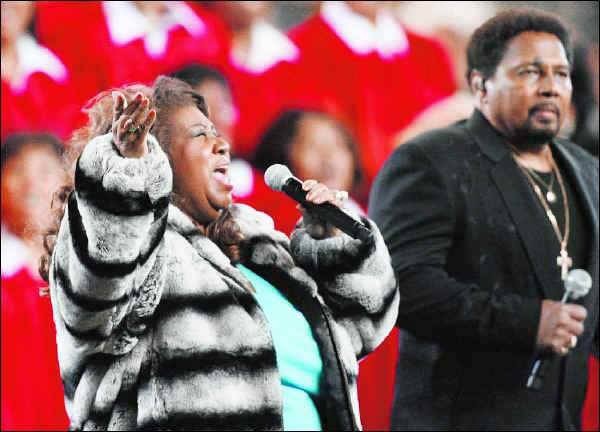 ARETHA FRANKLIN SINGS NATIONAL ANTHEM WEARING ONE
AT SUPER BOWL 2006
CLICK ON THE FOUR PICTURES BELOW TO ENLARGE THEM
This firm is federally licensed by the United States Government. All shipments are in strict compliance with the laws of the United States as administered by the United States Department of The Interior, U.S. Fish & Wildlife Agency.
CLICK HERE FOR 16 PICTURES OF GREAT RAPPER BOMBER JACKETS
HOW TO ORDER
1. Mail make your check , or postal money or bank cashiers check for $700 payable to "Anke van de Waal" (includes shipping, handling, and insurance)
2. mail to Anke van de Waal
Palms Bayshore Building, Penthouse Suite #408, Suite 203
Kirkland, Washington, 98033-6876
3. Include the following information
a) Full street address, city, state and zip code to which you want jacket sent
b) If you want to be advised by UPS of the tracking number so you can
track the shipment once it is under way to you, please provide your email
address.
c) Please provide your telephone number for UPS in case they need to
contact you about delivery.
d) Please provide the following measurements.
Size Guide
Jacket Use body measurement sizes when you measure
Use these larger jacket measurement sizes when you order
| | | | | | |
| --- | --- | --- | --- | --- | --- |
| | SMALL | MEDIUM | LARGE | X-LARGE | XXL |
| Chest | 41" | 43" | 45" | 48" | 51" |
| Sweep | 44" | 46" | 48" | 51" | 54" |
| Length | 28" | 27" | 28" | 28" | 28" |
Body Measurements
SMALL
MEDIUM
LARGE
X-LARGE
XXL
Chest
35-36"
37-38"
39-40"
41-42"
43-44"
Waist
25-26"
27-28"
29-30"
31-32"
33-34"
Hips
36-37"
38-39"
40-41"
42-43"
44-45"
If you need assistance in how to take your measurements please call us 1 (425) 828 6774 , or send us an email
click here to request more information by email
YOUR JACKET WILL BE CUSTOM MADE TO THE MEASUREMENTS YOU PROVIDE TO US.
---
OTHER TYPES OF FUR RELATED INFORMATION
REAL CHINCHILLA JACKETS AND BOMBER JACKETS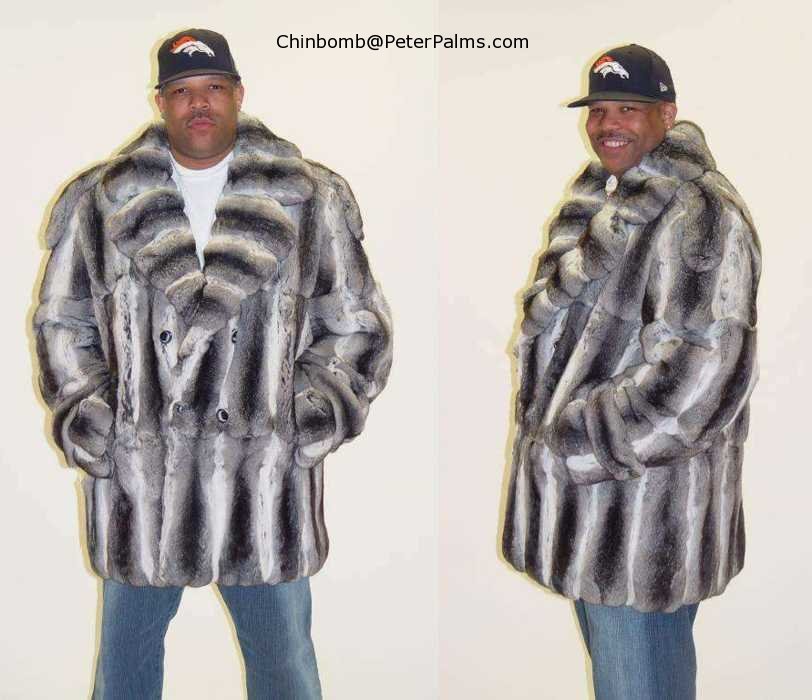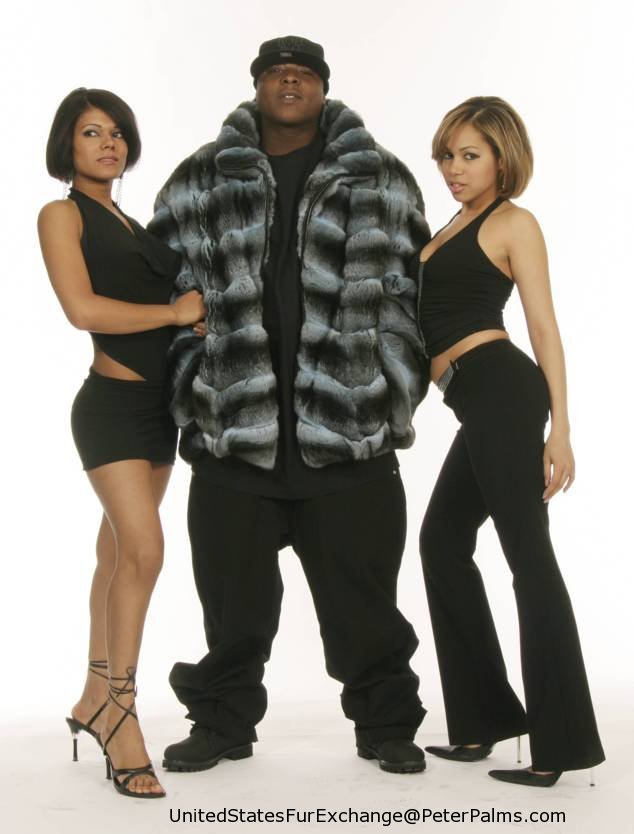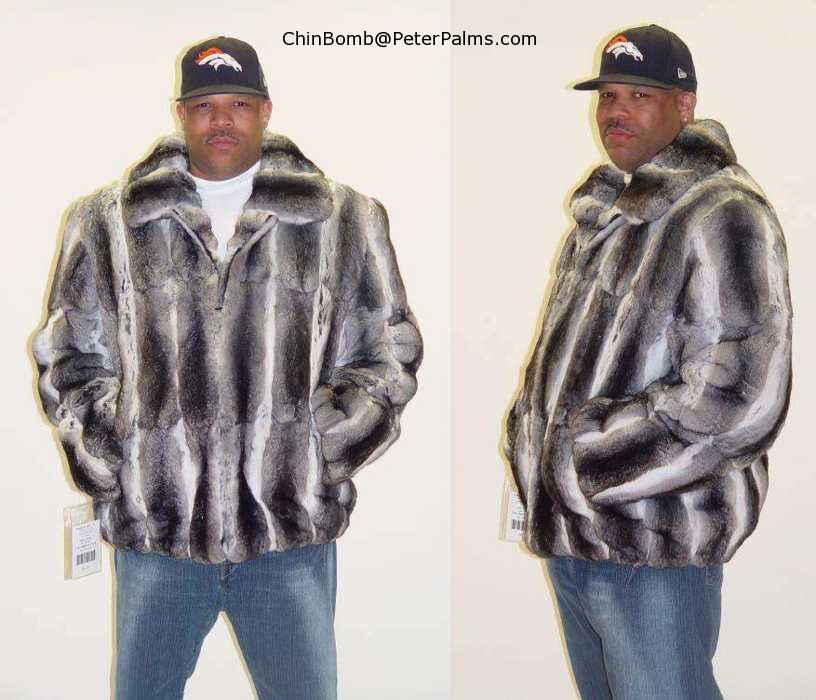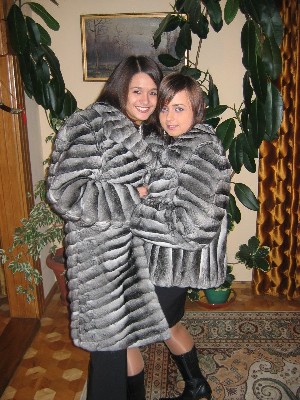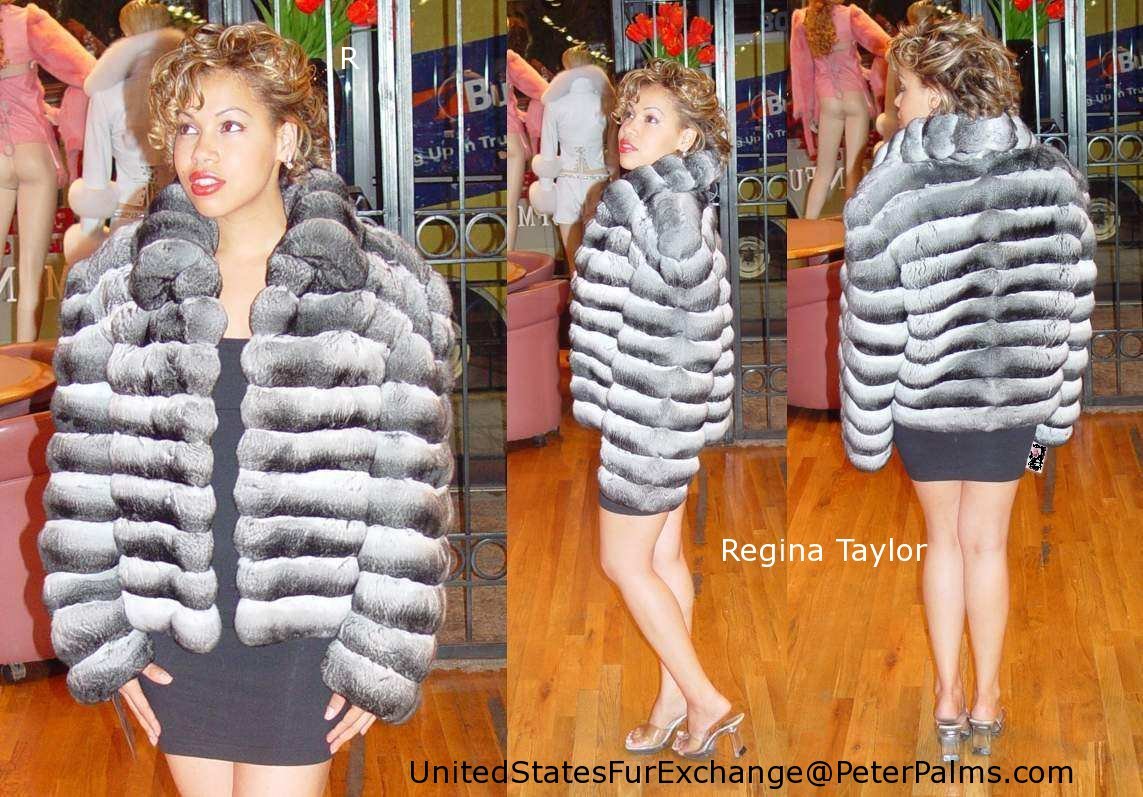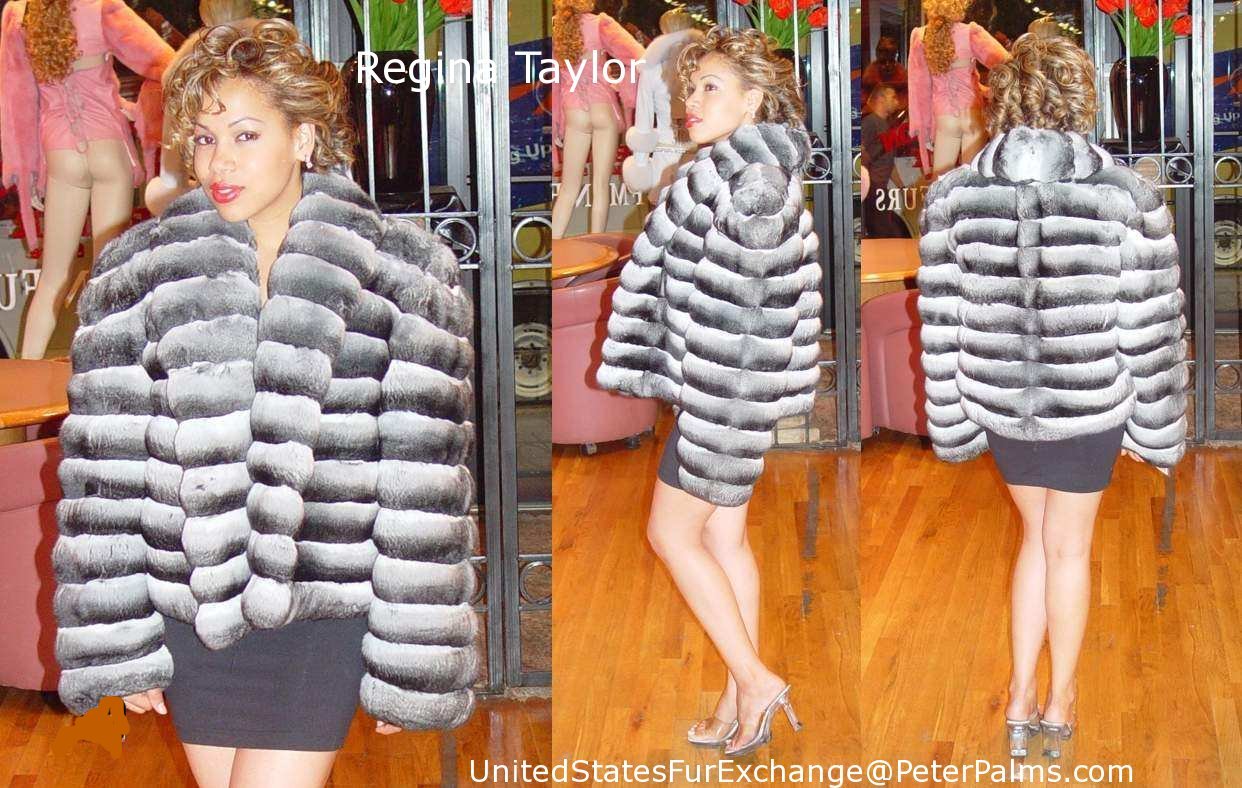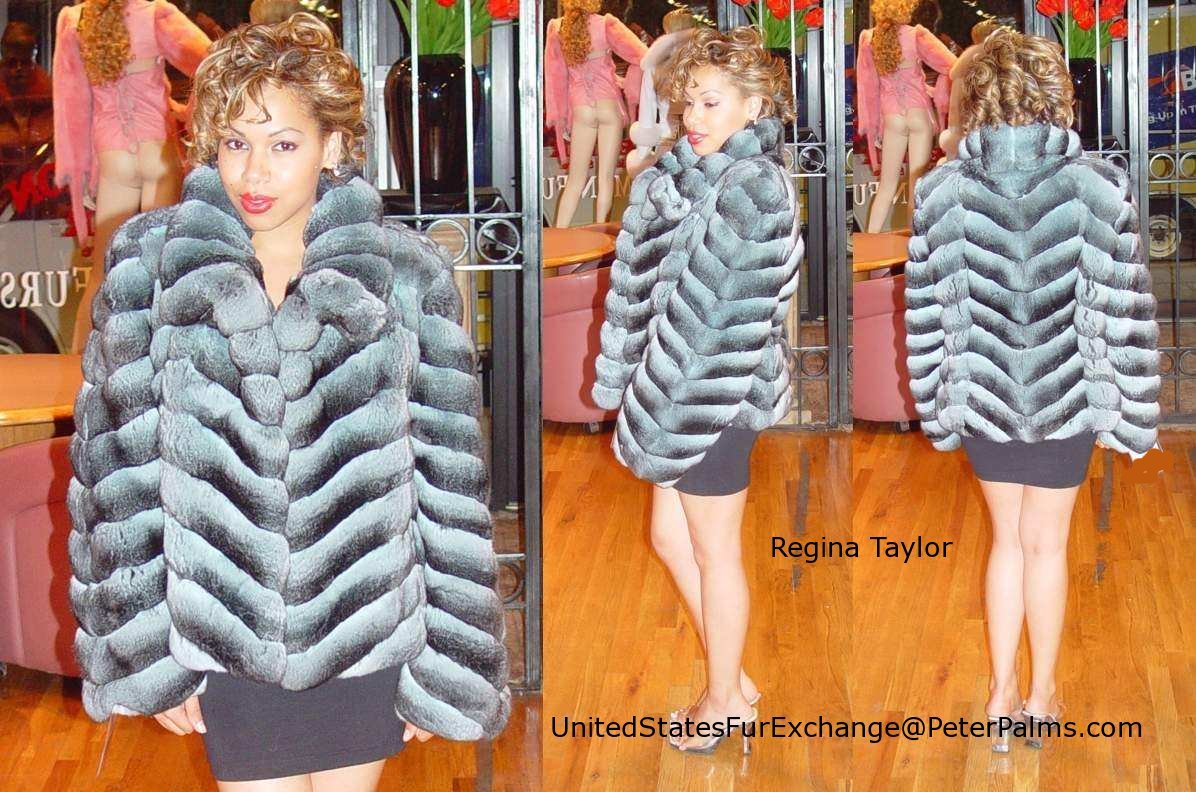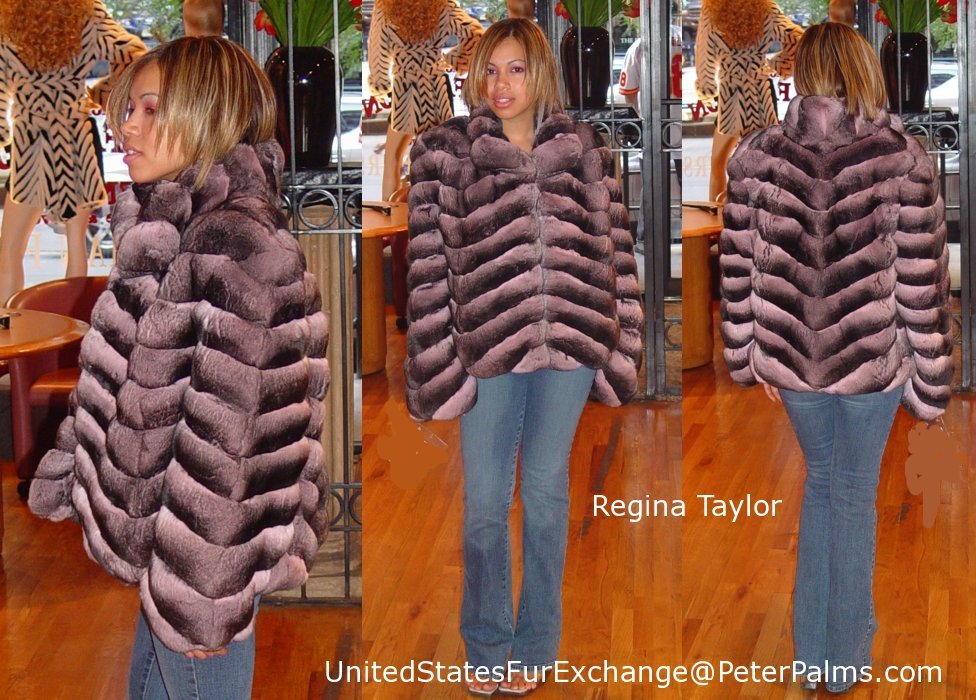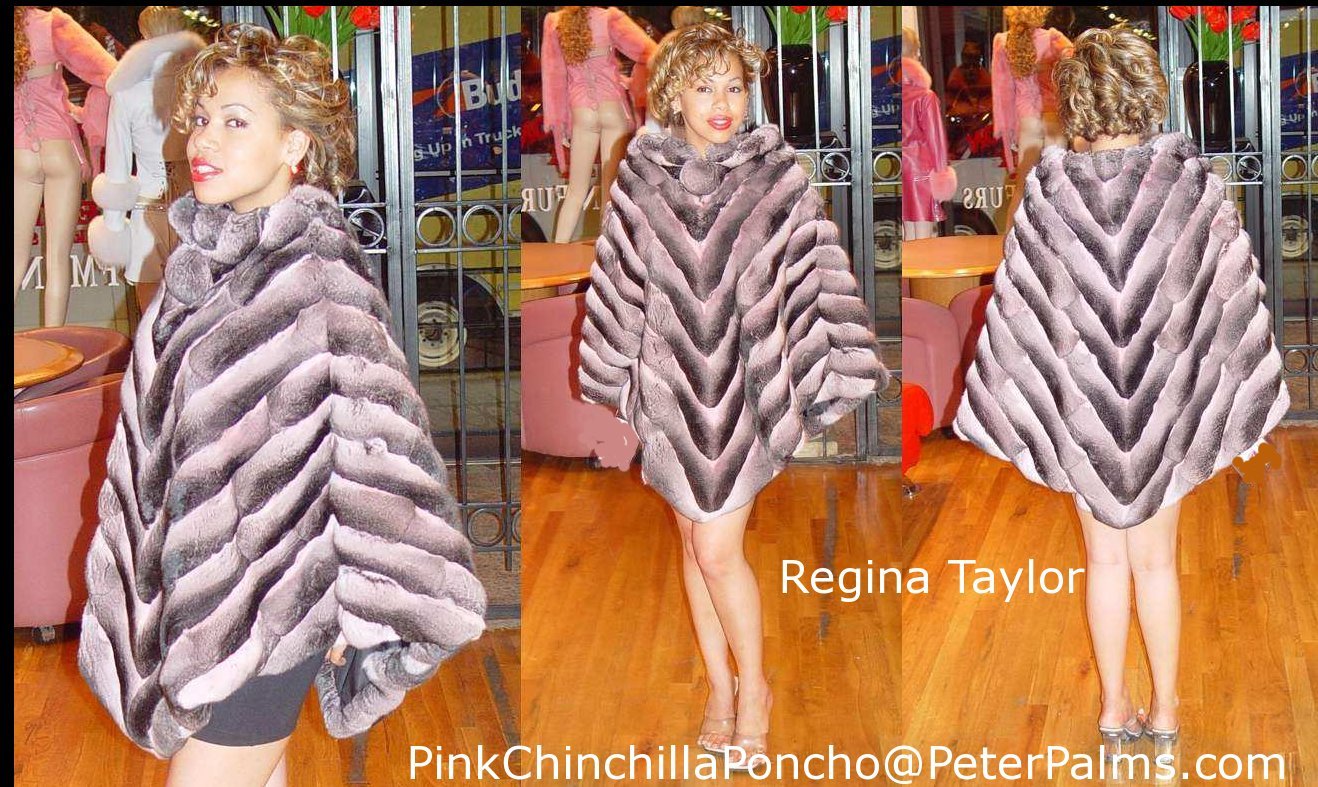 Document Courtesy of Palms & Company
CLICK HERE FOR FUR SCRAP - FUR COATS - FUR BEDSPREADS MORE PELTS
There is hardly anything in the world that some man can't make a little worse and sell a little cheaper, and the people who consider price only are this man's lawful prey.
WHEN YOU BUY SOMETHING THAT IS GOING TO LAST FOR DECADES
ALWAYS BUY THE VERY BEST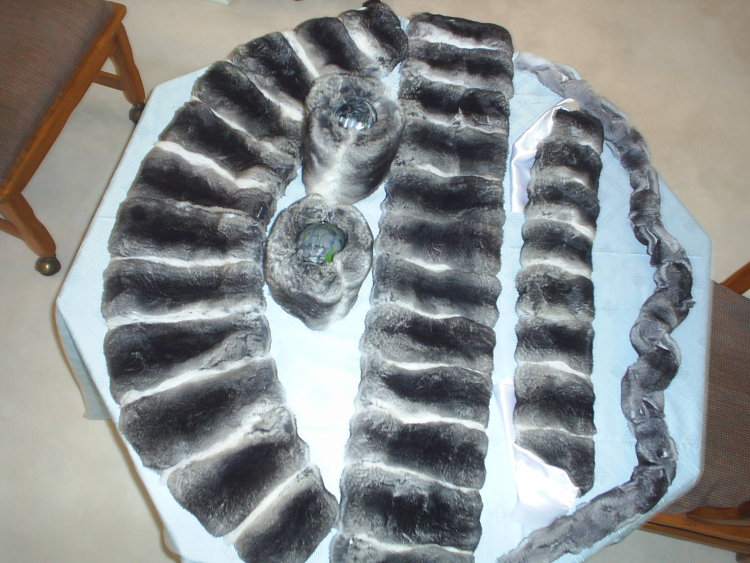 REAL CHINCHILLA CUFFS, COLLARS, SCARVES AND NECKLACE

Collar 12 chinchilla pelts. Dimensions 54 inches outer hem around neck
43 inches inner hem around neck
width a back of neck 9 inches
width at ends 5 inches
thickness of fur 1.5 inch
weight 230 grams (or 10 ounces)
Price wholesale $2,520.00

2 cuffs (6 pelts) length up sleeve 8 inches
circumference around wrist 14 inches
thickness of 1.5 inches
diameter 7 inches
weight per cuff 30 grams (2ounces)
Price wholesale $1,260.00



long scarf ( with the slip tuck-in fastener) 12 pelts length 44 inches
width 8.5 inches
thickness 1.5 inches
weight 230 grams (10 ounces)
Price $2,520.00

scarf with pull through white rayon
material run through for purpose of fastening
under the neck 8 pelts length 28 inches
width 8 inches
thickness of scarf 2.5 inches
weight 8 ounces (210 grams)
Price $1,680 .00



You are One of the People
HERE. (World Population Counter)
Know With Whom You Are Doing Business
You may wish to decide whether you feel comfortable about our credibility, before you read our opinions and advice
Credentials
The many faces of Dr. Palms
References - Testimonials - History
Awards

Awards
IBM - ATT - Microsoft - Magellan - Time Warner - Europe Online - NYNEX
This firm is federally licensed by the United States Government. All shipments are in strict compliance with the laws of the United States as administered by the United States Department of The Interior, U.S. Fish & Wildlife Agency.
---
---

About The Portal To Russia -----

How To Subscribe -----

Электронная почта Dr. Palms
---
PLEASE CALL 1 425 828 6774 OR eMAIL TO OBTAIN
FURTHER DETAILS IF YOU NEED SOMETHING YOU DON'T SEE
Interested in Coats or Jackets made from any of our Chinchilla pelts ?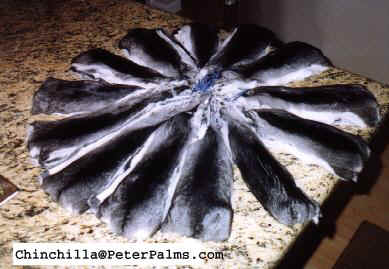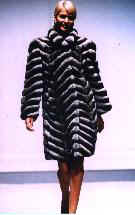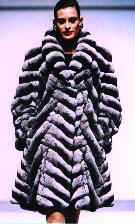 $3220>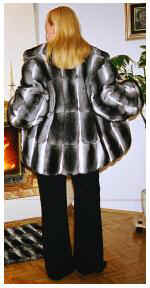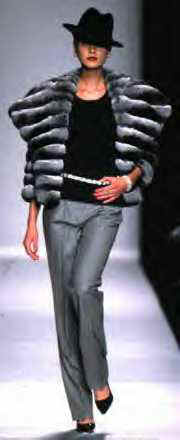 <$2380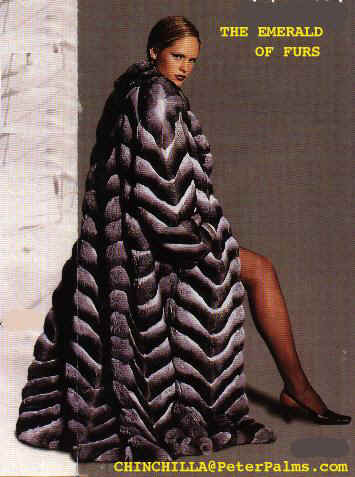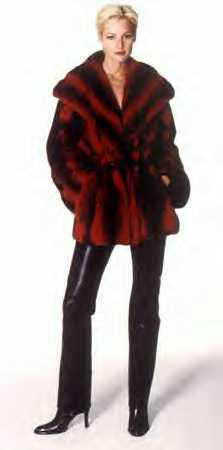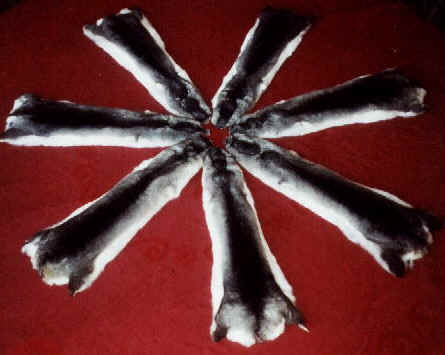 click here to request more information by email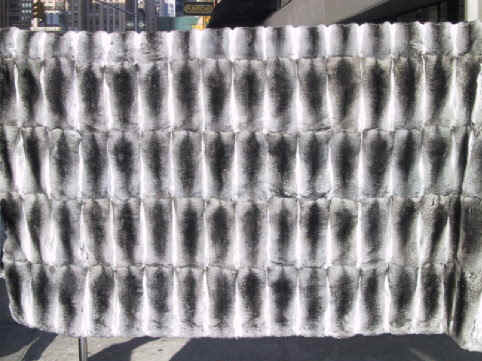 CHINCHILLA BEDSPREADS COMFORTERS BLANKETS ALL SIZES AND PLATES
Custom manufacture to your styles and patterns or ours, to detailed measurements
ALL PELTS SHOWN ARE DRESSED - RAW PELTS ALSO AVAILABLE
DRESSING (TANNING) SERVICES AVAILABLE AT $5.00 PER PELT
Pelt Prices from $16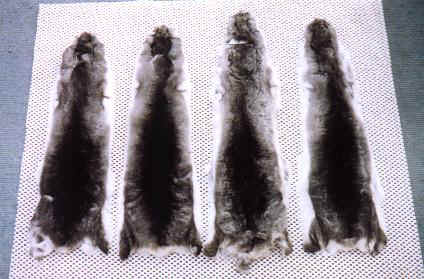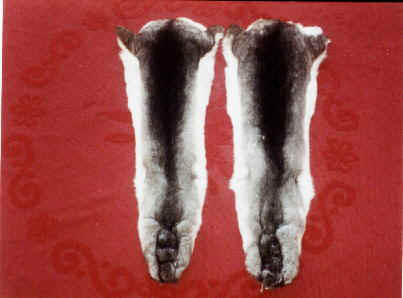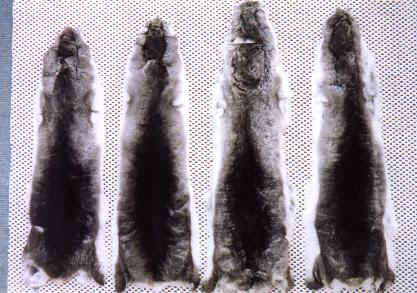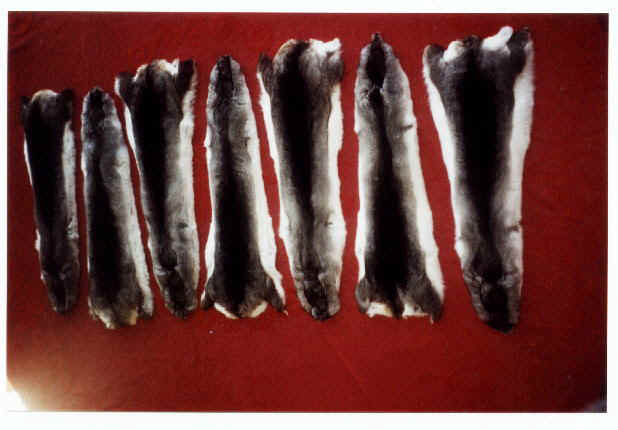 Lighting is everything to obtain accurate color representation
above is accurate lighting.
Below is compromise lighting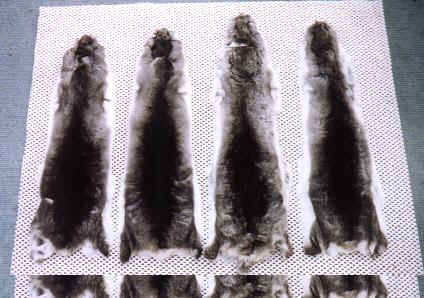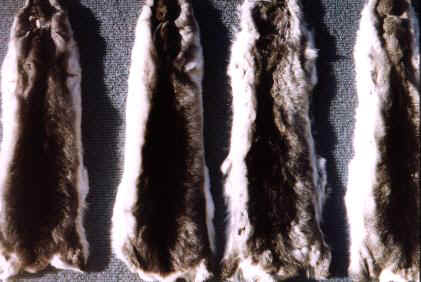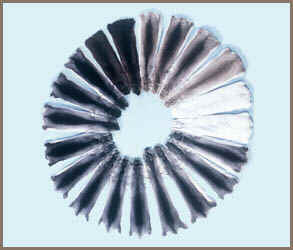 20 different colors - 22 different quality - 22 different prices
Starting at $50
Origin Eastern Europe - North & South America - Russia - North America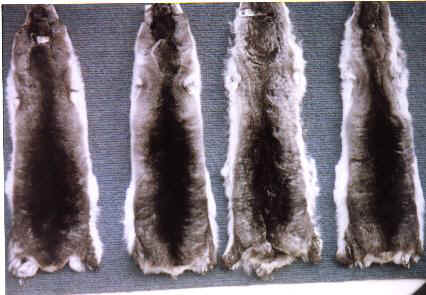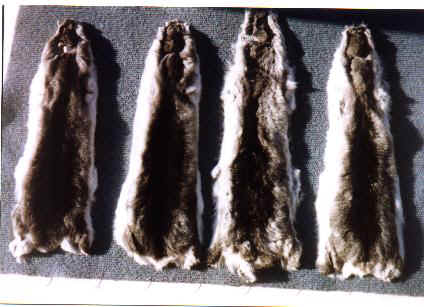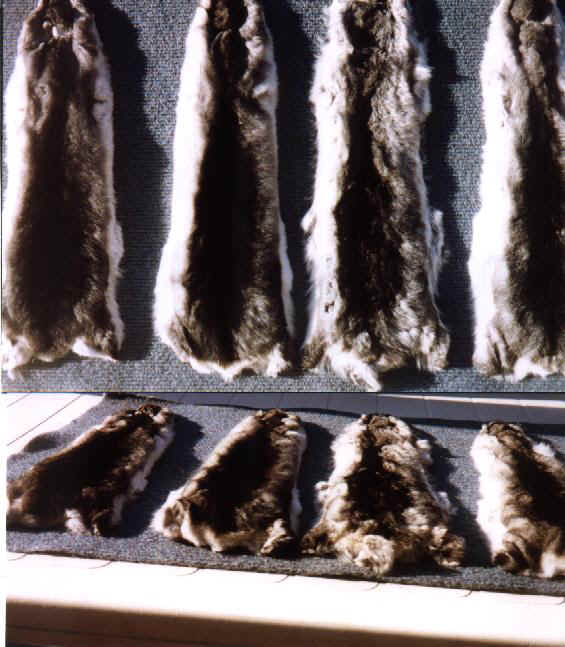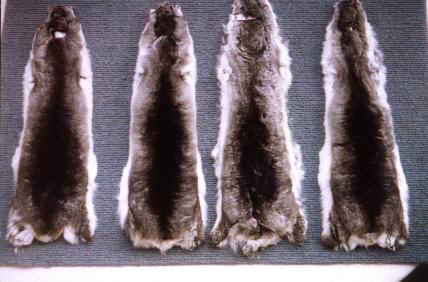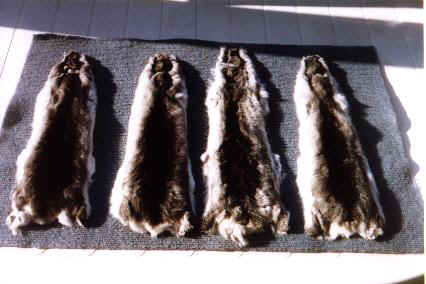 Chinchilla... The Softest, most Luxurious Fur of unequalled Elegance. The durable texture, the density and the pattern of colors make chinchilla an elite fur with a rare beauty.

The pelt has three distinctive shades. Next to the skin is a band of deep slate-blue, followed by a marvelous range of tones from blue-grey to snowy white. The surface of the fur is a veil of cool, icy blue. No wonder it has been called the most beautiful of all furs!

Each single hair divides into as many as 70-80 different strands as it emerges from the skin. For this reason chinchilla fur cannot be successfully imitated. Although extremely soft, it is highly durable. Another remarkable feature is the extreme lightness of the fur. A square yard of chinchilla weighs no more than the same amount of silk, and even a large pelt generally does not exceed one ounce. For this reason chinchilla fur is ideally suited for trim on exclusive dresses and hats as well as coats etc.

In fact, chinchilla is so light and soft that the human hand is not sensitive enough to feel the fur at first touch. This combined with the rare beauty and long life of the fur, has made chinchilla one of the most highly prized furs. We offer both finished and unfinished pelts. Please contact us for more info
CALL US - OR EMAIL US - TELL US WHAT YOU NEED AND WHAT PRICE YOU REQUIRE AND WE WILL PROVIDE YOU WITH PELTS TO FIT YOUR BUDGET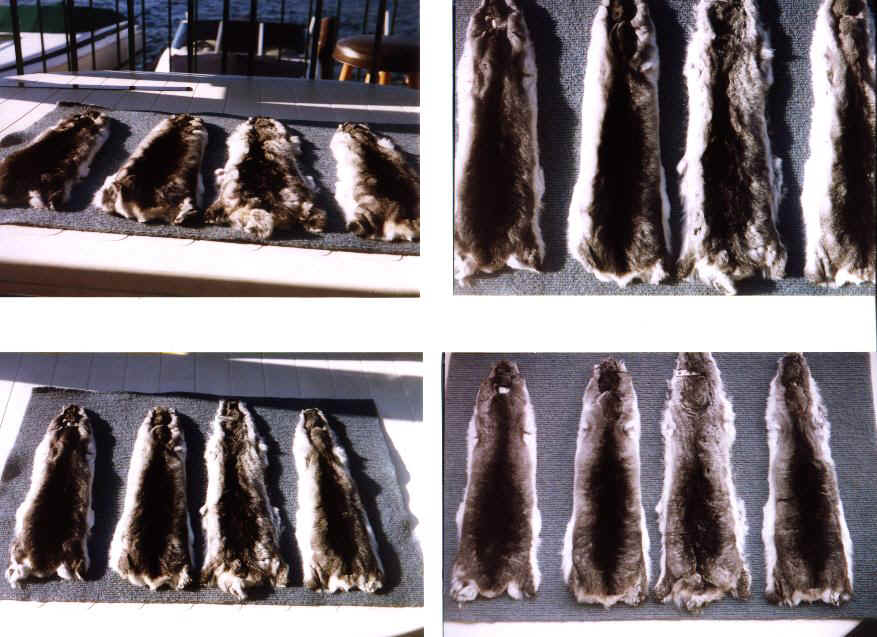 CLICK HERE FOR FUR PLATES & scrap raw materials used for manufacturing fur apparel, clothing, teddy bears, hats, blankets, quilts, comforters, bedspreads, apparel collars and cuffs.
NEW COATS & JACKETS
Long Haired Beaver Sheared trim vests - Black & White Rabbit - Sculpted Pinsquare Sheared Beaver - Ivory Long Haired Beaver - Beaver parkas - Urban Sheared beaver - Beaver vest - Beaver Jackets - Shearling Look - Beaver Coats - Whiskey Sheared Beaver - Golden Island Fox Trim - Stars & Stripes - Olive Leaf Trim - Jungle City Sheared Beaver - New Diamond Carved Sheared Beaver - Quiet Elegance - Persian Lamb - Red Sheared beaver - Rose Beige Sheared beaver - Black Lamb Reversible to Black Nappa - Double faced Beaver Reversible - Woven Mink Reversible to Nappa - Reversible Nutria to Antique Nappa - Ladies Female Parkas - Man's Dyed Jacket - Man's Female Mink Parkas - Sheared Mink Reversible Leather Long hair Mink - Sheared Mink Reversible Glama Mink Trim - Sheared Mink Reversible Leather - Sheared Mink Horizontal - Sheared Mink Reversible to Nappa - Sheared Mink Sable Trim - CLICK HERE
---
CAN YOU REALLY RELY UPON PALMS & COMPANY?

You are on of these whom.
(World Population Counter)
---
Attention Brokers, Agents , Intermediaries , Mandates of Principals/Buyers
Go to TOP of this page

RETURN TO HOME PAGE
---
Go to TOP of this page
6421 Lake Washington Boulevard North East, Kirkland (Seattle)
State of Washington, United States of America, 98033-6876 Phone: 1-425-828-6774 & 1-425-827-5528 Branches: 41 World-wide
email: Marketing@PeterPalms.com
Consulting telephone: click HERE Created Nov 2002 Last Revision: 6/23/2004
Copyright 1995-1996, Palms and Company, Inc., All rights reserved Webmaster - Web maintenance - Revenue Generation Responsibility
---